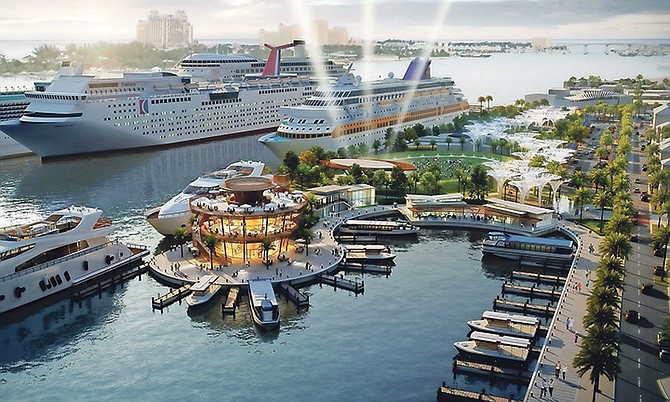 By NATARIO McKENZIE
Tribune Business Reporter
nmckenzie@tribunemedia.net
Bay Street merchants yesterday said Global Ports Holding's $250m plan to redevelop Nassau's cruise port is "exactly what downtown has needed for many years".
Tara Morley, the Bahamas Federation of Retailers (BFR) co-chair, told Tribune Business: "We're really excited. It seems like they [Global Ports] are extremely keen on getting feedback from the local community in terms of best steps for the redevelopment of downtown. They were far and away the most ambitious of the revitalisation project bidders. It's exactly what downtown has been needing for many years now.
"Retailers are quite keen on seeing some movement with respect to getting downtown to a level it once was, and hopefully even better than before. This is also going to create a lot of opportunities for the current landlords and business owners who may now want to regroup and reinvest in the downtown area.
"It is also starting to attract other developers from outside the country into looking at downtown as a viable investment going forward. We will continue to collaborate with them [Global Port] closely, and we're open to feedback from downtown retailers."
Sarah Hug, proprietor of Shore Boutique, told Tribune Business that Global Ports Holding's plans could attract her to re-open in downtown Nassau. "I'm very excited. I'm excited for everyone down there. I might review looking at a business down there. What they're proposing is exactly what downtown needs," she said.
Ms Hug added that she had been forced to move her business out of downtown two-and-a-half years ago, and focus on her Cable Beach store, due to a lack of "quality tourists" and spending by cruise passengers. "The quality of tourists really deteriorated, there was a lack of parking and so we lost a lot of local business and, frankly, downtown is not exactly an attractive place," she added.
Global Ports Holding, the UK-listed, Turkish-headquartered operator of 16 cruise ports spread throughout the Mediterranean, Asia-Pacific and Atlantic regions, was unveiled as the preferred bidder to take over Prince George Wharf's management and operations, and oversee its redevelopment, at the weekend.
Bids for the Nassau Cruise Port were submitted to the Government on December 7 last year, and opened on December 11. The three contenders were the $250m offer from Global Ports Holding and its Bahamian advisors, Arawak Port Development Company (APD) and CFAL; the $225m proposal by Nassau Port Partners, headed by Bahamian investment house, Providence Advisors; and the $125m submission by Cruise Ports International. The latter, a Bahamian group, was headed by former Family Guardian president, Gerald Strachan, in alliance with four major cruise lines - Carnival, Disney, Norwegian and Royal Caribbean.
Global Ports Holding has pledged to provide a $10m interest free loan to small Bahamian retail investors to enable them to acquire shares in an investment fund that will have of 49 percent equity ownership in the project. Those 20,000 Bahamians will hold shares in The Bahamas Investment Fund set up by CFAL (the former Colina Financial Advisors).
Company officials have also promised to work "in harmony" with the Downtown Nassau Partnership (DNP) to help finance improvements to Bay Street and surrounding roads, and upgrade lighting and benches to make the area "a more attractive place where people want to linger" and spend money.
Global Ports Holding also plans to offer training initiatives to help small retailers and other businesses in areas such as product placement and merchandising, and also assist merchants not part of the cruise ships' own marketing programmes.