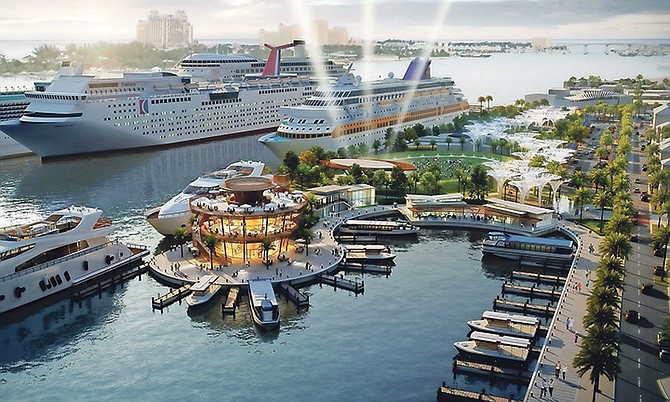 How the new waterfront could look, according to Global Ports Holding's plans.
Stories this photo appears in:

Nassau Cruise Port yesterday confirmed it is steaming ahead with Prince George Wharf's transformation after raising $20m more than it needed from Bahamian and foreign investors.

GLOBAL Ports Holding's chief executive said yesterday the developer's $250m 'transformation' of Nassau cruise port will generate billions of dollars for the local economy and thousands of jobs for Bahamians.

THE Minnis administration signed a Heads of Agreement yesterday for a $250m project with Global Ports Holding to redevelop and manage the Nassau Cruise Port.The project will anchor the administration's efforts to revitalise downtown Nassau.Through it

Taxi drivers yesterday warned they will not be "disenfranchised" by the cruise port's redevelopment, their union president pledging the sector will be "at the forefront of negotiations".

The winning Nassau cruise port bidder yesterday said it aims to increase passenger spending by more than 100 percent and transform the entire city into a "worldwide brand".

Bay Street merchants yesterday said Global Ports Holding's $250m plan to redevelop Nassau's cruise port is "exactly what downtown has needed for many years".

The cruise lines were yesterday reassured they will not face excessive port fees after the government selected Global Ports Holding's $250m bid to redevelop Prince George Wharf.