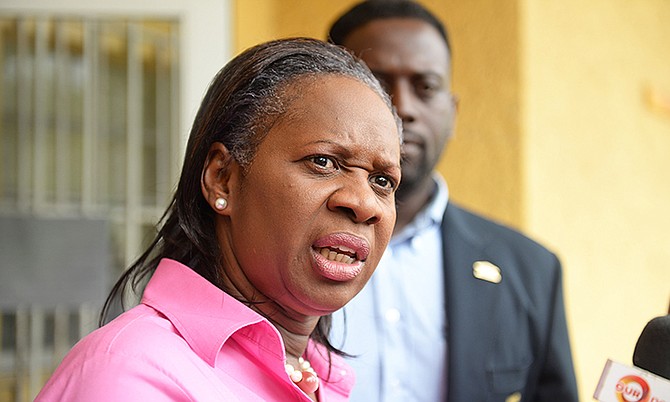 By KHRISNA RUSSELL
Deputy Chief Reporter
krussell@tribunemedia.net
WHETHER things go smoothly at C H Reeves Junior High School on Monday rests with Ministry of Education officials, Bahamas Union of Teachers President Belinda Wilson said Friday.
In an interview with this newspaper, Mrs Wilson said since earlier this week receiving a strike certificate over the conditions at the junior high school, letters have been sent to education and labour officials informing them that the union still has nothing official in its possession to certify that all the issues were resolved.
Asked whether there was likely to be industrial action on the first day of school following the holiday break, she said: "Our reaction depends on the ministry's action, so if they have done what is supposed to be done then it's smooth sailing.
"If not then we will decide what our next move is."
She also said: "I would have written a letter to the Minister of Labour (Dion Foulkes) and (the Director) John Pinder and we go back to conciliation at CH Reeves on Tuesday morning that's January 8th.
"I also wrote a letter to the Minister of Education (Jeff Lloyd) and the Permanent Secretary of Education letting them know that we have nothing in our hands that confirms that the mould has been tested, the school has been cleaned and the mould has been remediated.
"We have nothing in our hands to show that the place has been exterminated and the rodents and infestation has been completely eradicated and we have nothing in our hands to tell us that the new 12 classroom block would be occupied for the teachers and students Monday. So I think we are right back to square one."
When school opens Monday she said teachers will show up, do their own inspections and inform the union on the effort that has been made to ensure the school is at a BUT acceptable standard.
"Once we get a report from the Shop Stewart as to the condition of the school we will be able to better state what our next course of action is," Mrs Wilson said.
On Thursday, The Tribune was told mould samples were taken from CH Reeves and sent abroad for independent analysis.
The samples were reportedly taken by an independent contractor, according to a source close to the matter, who noted it was carried out under the supervision of the Office of the Attorney General, the Department of Labour, school management and union representatives.
However, Mrs Wilson said no union representative was present.