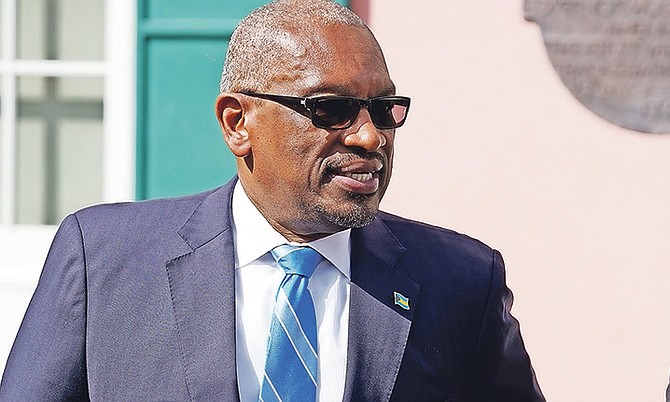 By KHRISNA RUSSELL
Deputy Chief Reporter
krussell@tribunemedia.net
PRIME Minister Dr Hubert Minnis yesterday defended the process that selects the recipients of Queen Elizabeth's Honours, telling The Tribune it should not be seen as a reward for political party supporters, but for those who served the country well.
Eight Bahamians were among 1,148 people selected to receive Queen Elizabeth's 2019 New Year's Honours - with Janet Bostwick, the first woman elected to the House of Assembly and a former Attorney General, named as a dame.
Cabinet Secretary Camille Johnson was also chosen to receive the Order of St Michael and St George (CMG) for outstanding services to education and to public service. The award is given to people who render important non-military service in a foreign country. Other honourees included former Housing Minister Alfred Kenneth Russell who received a British Empire Medal for services to politics and business.
But while some say the Queen's Honours should not be recognised since the Bahamas established its own National Honours system, others view it as political reward.
The prime minister yesterday pushed back against the latter notion.
"The nominations are the same procedures that have always been followed," Dr Minnis told The Tribune.
"Individuals in society are asked to name individuals who they thought made great contributions and there is a previous list of nominees that would have been there from previous Cabinets and you review and look and you make determinations."
Asked directly whether the Queen's Honours are used as token to the party faithful, Dr Minnis said: "No, those are the individuals who have made contributions. How could you question Janet Bostwick or Kenneth Russell?
"These are individuals who have made great contributions and there are also several reverends who have made great contributions to society.
"They are not political. If you are going to say that, then some can argue that the Bahamian National honours list is similar, but with that list you have a committee that makes those determinations and Cabinet may justify the decision, but the committee goes out, does their due diligence searches not only in New Providence but throughout the Bahamas and makes determinations out of the recommendations."
Last week Father Sebastian Campbell said it was disgraceful this country continues to recognise the Queen's Honours, pointing to the creation of our own Bahamian National Honours system.
An outspoken critic of the Queen's Honours for years, Father Campbell said to recognise the UK system was a blatant insult to Bahamians and their honours system.