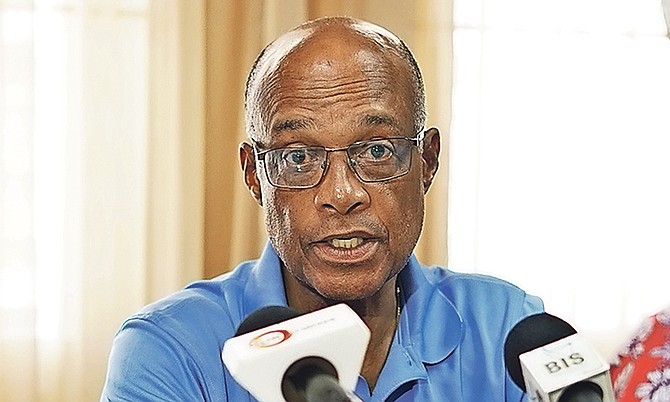 By KHRISNA RUSSELL
Deputy Chief Reporter
krussell@tribunemedia.net
WHILE Education Minister Jeff Lloyd said CH Reeves Junior High School has been "scrubbed down" to ensure it is safe for occupancy, the Bahamas Union of Teachers insisted industrial action could still be on the table pending an inspection by educators today.
BUT president Belinda Wilson acknowledged the Ministry of Education made an effort to address the union's concerns of mould and pest infestation. However, she said, there were a few issues left needing attention.
Asked whether there would be industrial action as public schools reopen today, Mrs Wilson said: "Well I am not going to say outright. We are guided by the teachers. When they would have inspected each individual room, we will make an assessment, hold a meeting and make the decision on what's next."
Last week, Mrs Wilson warned officials that only if her demands were met would a strike be averted.
She spoke to The Tribune yesterday while inspecting the school. During the walk through, the union chief said work was still being done by cleaning company Frank Hanna to correct the issues.
She further confirmed that the school did receive an occupancy certificate for the new classroom block.
"So far they have made an attempt to address all of the matters," she said. "There are still a few matters that are outstanding. The teachers will come and go into their classrooms in the morning and make an assessment.
"The new block, they did receive the occupancy certificate. There are 11 classrooms but there is a need for more desks and chairs for students and teachers.
"Frank Hanna is presently doing a thorough cleaning and the painters are on the grounds. They have done some corrections to the science lab and the rest room.
"They have made an effort to address all of the concerns. However, more desk and chairs and one or two cabinet repairs are needed and they did do the termite and rodent remediation today so we have to watch that to see if any roach and rats are crawling around.
"As of right now the teachers will report and go into various classrooms and then we will have a meeting and make a determination."
When he spoke to reporters yesterday following a contract signing at the Ministry of Education, the minister said he didn't foresee any challenges with the school's opening this morning.
He said the incident had caused students to miss school already and this could not be allowed to happen again.
Mr Lloyd said: "Class will begin tomorrow (Monday) morning. Today, Sunday, I had a walk about. I wanted to go and see for myself what exactly is going on at CH Reeves. We had engaged Frank Hanna the cleaning company who has done a comprehensive scrub down of the entire school area.
As you know there are brand new classrooms that have already been prepared and ready to be occupied by students and teachers
"There were a number of classrooms that were of concern to teachers, which have been specifically addressed, but in addition to those and all of the others the school is ready. I have been assured by Katherine Hanna, I think her name is, that the school is ready for occupancy and it is safe."
He added: "However you know teachers are very important to us and we want to do whatever we have to do in order to make them happy and comfortable. So in addition to making sure the school is all scrubbed down and so forth there was one classroom, according to the report, that had elevated mould in the air.
"That particular classroom, as well as all others, will be again tested after the scrub down to ensure that we are safe for human habitation, but there's no problem. We have been in constant communication with the union, they were all on board.
"We only have 180 days according to law and for every day that you're not in school you're challenging the completion of the curriculum every single day, which deprives our students of the opportunity for continuing advancement and the opportunity to pass their exams," he also said.
Last week Mrs Wilson also demanded written proof that mould had been remediated by a professional company.
Last month, teachers at the school overwhelmingly voted in favour of a strike over outstanding issues. The Department of Labour initially declined to give BUT a strike certificate because not all teachers in the country had the chance to vote in the strike poll. C H Reeves teachers were the only ones that participated.