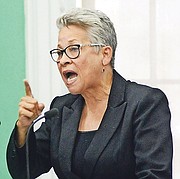 By KHRISNA RUSSELL
Deputy Chief Reporter
krussell@tribunemedia.net
ENGLERSTON MP Glenys Hanna Martin yesterday denounced the government's upcoming "farce" of an observance for Majority Rule Day, telling The Tribune the Minnis administration has betrayed the principles of its historical significance.
Given this view, the former Cabinet minister said she would not engage in any event put on by the government for the holiday, which is tomorrow.
"This administration has betrayed the foundational principles of Majority Rule and have sought to reinstitute offensive policies and principles which stultify the progress of our people and marginalise our collective dreams and aspirations," Mrs Hanna Martin said in a statement to this newspaper.
"They began with their reversal of the Bahamianisation policy with the passage of the Commercial Enterprise Act, which facilitates and prioritises foreign labour whether or not Bahamians are qualified to do the work. This is an abomination.
"They have most recently undermined our economic stability and favoured and protected minority interests by removing the established underpinning, the exchange control policy which supports the fixed control rate, without consultation: the net effect being the majority of Bahamians now face an economic future of uncertainty.
"They have made a mockery of our National Honours system and potentially devalued its significance.
"They have violated the spirit and intendment of our Constitution by allowing a Cabinet minister to benefit from a lucrative government contract in the renting of the Town Centre Mall despite not having the unanimous approval and consent of Parliament. This is egregious."
She continued: "They have favoured the wealthy and privileged in policy and action such as we saw with their embarrassing kowtowing to Lyford Cay especially when contrasted with the disrespectful, dogmatic and dictatorial approach to Bahamian citizens and business.
"They have countenanced and condoned the disparaging of women through the official attack on Darnell Osborne, former executive chairman of Bahamas Power & Light Company, sending a vicious message as it relates to women in general.
"They have damaged our country's reputation by the prime minister's foray internationally declaring how corrupt the Bahamian people are.
"In the circumstances, I will not engage in the farce of observing form when substance is being destroyed."
On January 10, 1967, both the Progressive Liberal Party and the United Bahamian Party won 18 parliamentary seats during the general election, with the remaining two going to Randol Fawkes, of the Labour Party, and Alvin Braynen, an Independent.
Mr Fawkes sided with the PLP, helping the party to form the first black-led government and overthrow a white, wealthy oligarchy. Mr Braynen became speaker of the House.
The day was made a national holiday by the last Christie administration.