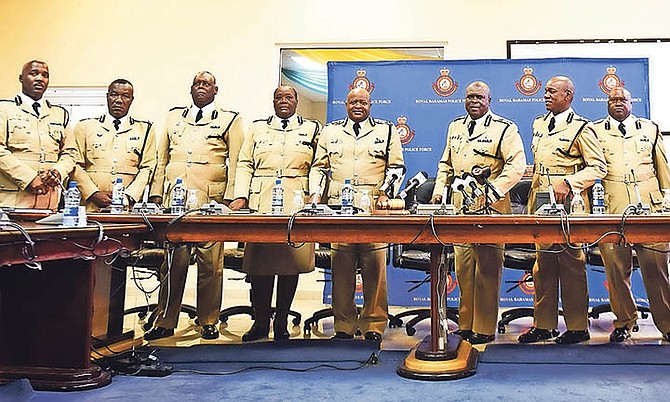 By MORGAN ADDERLEY
Tribune Staff Reporter
madderley@tribunemedia.net
OVERALL crime across the country decreased by eight percent last year when compared to 2017, with murders dropping 25 percent, Commissioner of Police Anthony Ferguson said yesterday.
The 2018 statistics show that only two categories of crime against the person saw an increase; there was a 46 percent jump in attempted murders and a six percent rise in reported rapes. "It was much safer in 2018 than it was in 2017," Commissioner Ferguson said at police headquarters.
He said although his policing plan for 2019 is "near completion," there will be no major changes from last year's document, as he deemed his 2018 plan is "still relevant, it works, and it is yielding desired results and more."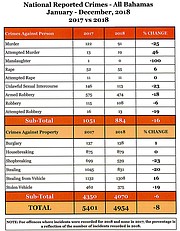 "I am happy to report that the preliminary figures indicate an eight percent decrease in crimes across the entire Bahamas when compared to 2017," he told reporters. Violent crimes decreased by 16 percent while property crimes decreased by six percent. New Providence experienced a six percent decrease in crime while the Family Islands experienced a decrease of 30 percent. Crime in Grand Bahama remained unchanged... with respect to murder, I am happier to report that for the first time since 2009, the murder count was less than 100."
However, it has been previously reported that 2018 marked the first year since 2010, when 94 people were murdered, that fewer than 100 murders been recorded in a single year. "The overall incidents of murder decreased by 25 percent with 91 incidents compared to 122 incidents in 2017."
In 2018, there were 80 murders in New Providence, six in Grand Bahama, and five in the Family Islands, according to the crime statistics. Of these, 35 were retaliation killings, representing an increase from 2017 when 26 retaliation killings were recorded.

Twenty-six of these murders were classified as conflict incidents, 14 were related to robberies, 10 were drug related, 10 were the result of domestic violence incidents and one was undetermined. However, zero murders were classified as gang related.
In 81 one of these incidents, a firearm was used. In seven incidents, a knife was used and in three the weapon is classified as "unknown". The overwhelming majority of murder victims were men — 88 – while three were women.
Thirty victims were between the ages of 26-35, followed by 28 between the ages of 18-25. Seventeen victims were between 36-45 while four victims were 17 or under. The majority of murders occurred in the southern districts of New Providence — 21 in the south central district, 15 in the southeast, 12 in the southwest, and six in the south. Eleven murders occurred in the central district of New Providence.
In terms of location, 47 murders occurred in the street, 18 occurred in a residence, nine occurred in a bar or club and four occurred in the bushes.
June was the deadliest month of 2018, with 14 murders occurring, followed by January and December, when 12 murders in each of those months occurred.
"When we analysed murder trends on a quarterly basis, we noticed some promising results," Commissioner Ferguson said. "During the first quarter of 2018, there were 26 murders representing a decrease of 35 percent. The second quarter, there were 28 murders representing a decrease of 15 percent. The third quarter, there were 16 murders representing a decrease of 48 percent. However, in the fourth quarter, there were 21 murders that showed an increase of 17 percent."
The commissioner also addressed the solvency rate for these violent crimes, saying it was higher than 70 percent. "I wish to bring to your attention that solvency for murder was 73.63 percent in 2018 compared to 57.38 percent for 2017, 53.15 percent for 2016 and 46.58 percent for 2015 – a notable increase," he said.
Across the entire country, there were 19 incidents of attempted murder, zero incidents of manslaughter, 474 armed robberies, 108 robberies, and 13 armed robberies.
There were 11 attempted rapes and 113 incidents of unlawful sexual intercourse.
However, rape increased by six percent — with 55 incidents reported in 2018 as compared to 52 in 2017. Forty-four of these incidents occurred in New Providence, as opposed to 36 in 2017.
When asked what police are doing to combat incidents of rape and sexual assault, the commissioner replied: "We realise that when you have persons who are hell bent on moving about in communities and targeting people, there's a slight increase in matters as it relates to sexual— rape, we recognise that."