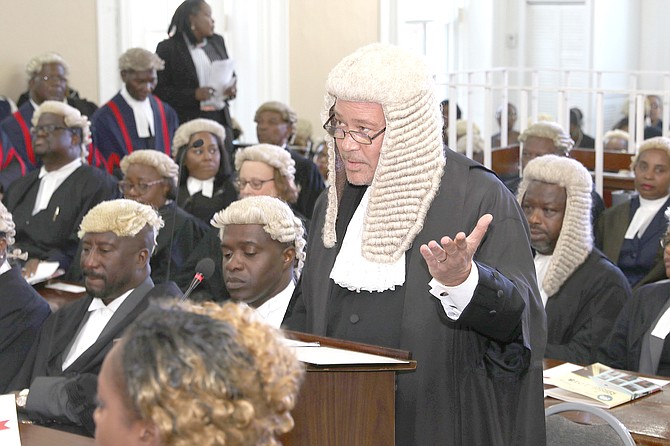 By NICO SCAVELLA
Tribune Staff Reporter
nscavella@tribunemedia.net
THE conviction rate for serious offences has increased by 10 percent, Attorney General Carl Bethel said Wednesday.
Mr Bethel, speaking during the opening of the 2019 legal year, said the conviction rate is 70 per cent, up 10 from the 60 per cent achieved last year.
Mr Bethel also noted that the increase in the conviction rate for serious offences came during a year in which the nation's first independent Director of Public Prosecutions, Garvin Gaskin, was confirmed in office.
"I wish to commend Mr Gaskin and his very fine team of prosecutors for excellent work in serving the cause of justice and the Bahamian people over the past year," Mr Bethel said.
During last year's legal year opening, Mr Bethel said the criminal justice conviction rate averaged around 67 percent for all offences and was just over 70 percent for murder and related offences, such as attempted murder and manslaughter.
He also said at the time that the Office of the Attorney General prosecuted 78 murder and related offences in 2017, 54 of which resulted in guilty verdicts while 16 resulted in not guilty verdicts. He said while those figures were "still a ways off" from the 75-80 percent conviction rate his office was targeting, it is still a "very decent conviction rate" when compared with the statistics of "comparable jurisdictions".
Additionally, Mr Bethel said at the time that 31 cases were disposed of in 2017 by way of a nolle prosequi – or a stop prosecution order – compared with the 92 in 2016, making for a 66 percent decrease.
In 2017, former Attorney General Allyson Maynard-Gibson boasted a four per cent increase in conviction rates for 2016 compared to the previous year. At the time, she said the Office of the Attorney General had a 67 per cent conviction rate in 2016, and that the conviction rate for murder trials was 75 per cent that year.
And during the 2016 legal year opening, Mrs Maynard-Gibson said the conviction rate for 2015 was 63 per cent, compared to 31 per cent in 2012.