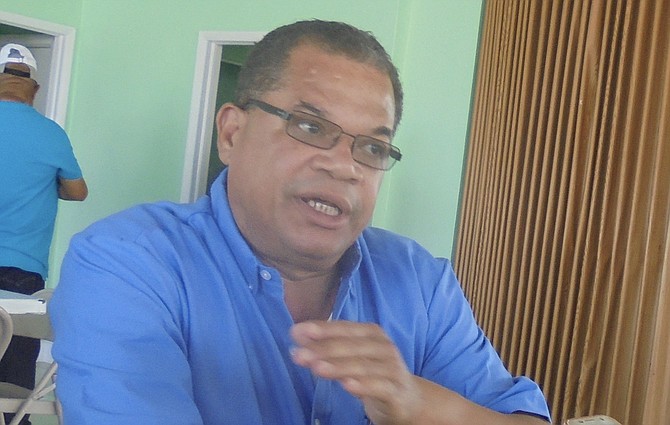 By RICARDO WELLS 
Tribune Staff Reporter
rwells@tribunemedia.net
THE government is seeking to amend the economic, environmental and legal provisions of controversial Oban Energies Heads of Agreement, Labour Minister Dion Foulkes has revealed.
His announcement came yesterday outside of Cabinet's weekly meeting, where he also revealed that Lauren Klein, consultant counsel in the Office of the Attorney General, and Alexander Grikits, will lead the government's and Oban's negotiating teams respectively.
The government was expected to meet with Oban's principals and legal counsel on Monday, however those plans fell through in the lead up to the meeting.
Mr Foulkes said the sides have not yet been able to reschedule the talks, but suggested two dates later this month are being eyed as options. He said if neither of those days can be utilised, the government's negotiation committee will hold a meeting to determine how best to move forward.
"The government is adamant about changing the terms of the Heads of Agreement," Mr Foulkes said yesterday. "Oban has agreed to enter discussions to change those provisions which we find at a disadvantage to the residents of Grand Bahama and to the Bahamian people generally."
When asked to give a timeline for the talks, Mr Foulkes said he foresees "two or three meetings" will be needed, but said a definitive timeline could only come once talks get underway.
"We want to make quite extensive changes to the Heads of Agreement. If the principals of Oban and the board of Oban agree to those changes, we will sign a new Heads of Agreement," he said.
He added: "We are looking primarily at three major categories, the economic provisions, the environmental provisions and the legal provisions. I do not want to get into the details until we have an opportunity to present our terms to Oban so that they can have an opportunity to respond."
When asked by The Tribune if the government would be prepared to walk away from its deal with Oban if the company doesn't agree to the new terms, Mr Foulkes said such a decision would have to be made by Cabinet when the time presented itself.
"I don't want to comment on that point, it is a decision for the government, for the Cabinet of the Bahamas to make; if the talks are unsuccessful, it would be a decision for the Cabinet to make."
The government's initial agreement with Oban sparked intense criticism, including points of opposition from several environmental organisations that took issue with the lack of an environmental impact assessment, given the project's risk factors.
The fallout prompted an admission from Prime Minister Dr Hubert Minnis that there were gross missteps in the government process.
Despite this, however, Mr Foulkes last month said the government will likely not make the project's environmental impact assessment public until a new agreement is inked.