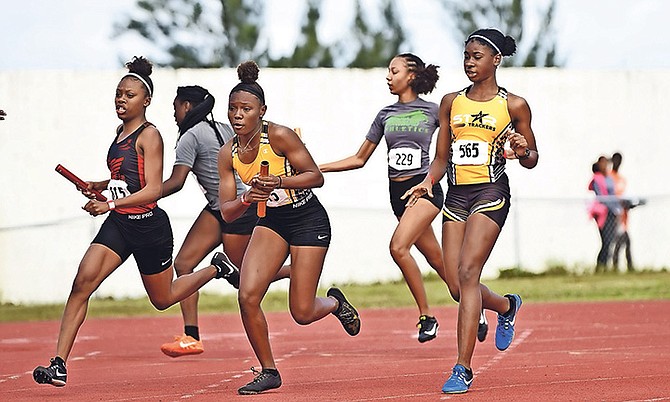 By BRENT STUBBS
Senior Sports Reporter
bstubbs@tribunemedia.net
Rivaled training partners Jaida Knowles and Anthaya Charlton, Grand Bahamian sprinter Terrance Jones and thrower Rhema Otabor surpassed the qualifying standards for the CARIFTA Games at the 30th T-Bird Flyers Track and Field Classic.
At the two-day meet on Friday and Saturday at the Thomas A Robinson, Keyshawn Strachan also produced another qualifying standard and more than 20 records were also broken.
Strachan, the first athlete to qualify at the RC Athletics Throwers Meet at the University of the Bahamas field in December, won the under-17 division with a toss of 53.30m to go over the standard of 49.09m as the 25-year-old also shattered the meet record of 30.65m set by Shannon Hudson in 2017.
The St John's College ninth grader was joined on the field by his Blue Chips Athletic team-mate Otabor, whose heave of 42.28m in the under-20 girls' javelin, surpassed the qualifying mark of 42.28m.
On the track, Star Trackers and St Augustine's College's team-mates Knowles and Charlton pulled each other through the finish line in the under-20 girls' 100m in times of 11.68 and 11.78 seconds for a 1-2 finish.
While Knowles dipped below the CARIFTA standard of 11.69 and erased the previous meet record of 12.35 set last year by Donesha Anderson, Charlton would have surpassed the under-17 girls' standard of 11.96 and lowered her own meet record of 12.28 she set last year.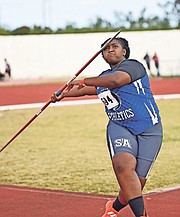 "I wasn't expecting to qualify this early, so I was proud of myself for doing it," Knowles said. "It's a big accomplishment because I did it in my first meet and now I don't have to worry about qualifying again."
Looking at the performance in the race, Knowles admitted that she had a terrible start coming out of the blocks, but she managed to finish off strong for the comeback victory.
"My start was bad, but my finish was good. It just shows that I know how to come back," said Knowles, a 16-year-old 11th grader. "The fact that I managed to do that proves that I'm ready this year."
And a part of her goals this year is to qualify for as many international meets as possible and hopefully continue to make a name for herself after she advanced to the semi-final of the 100m at the IAAF World Under-20 Championships in Tampere, Finland and picking up a silver and bronze respectively in the 100 and 200m here at the CARIFTA Games.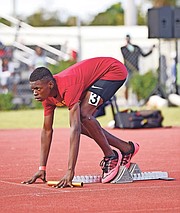 Charlton, the versatile sprinter/long jumper, said she was just as thrilled as Knowles about her achievement.
"I was happy to get it out of the way, seeing that this is the first official track meet for the season," said Charlton, a 15-year-old 10th grader. "I had Jaida in my heat and she gave me that extra push.
"It's really good to compete against her because we know each other very well and we have each other's best interest at heart and we push each other. We don't like to see each other fall behind."
Like Knowles, Charlton also has some high aspirations for the international scene, including making her presence felt at the CARIFTA Games in the Cayman Islands in April and the NACAC Under-17 in July in Peru.
"I'm hoping to jump over six metres and break the CARIFTA record," Charlton said. "In the 100m, I would like to at least clock 11.4 or faster. That would definitely get me a medal."
Jones, a member of the Grand Bahama Heats Athletics under coach John Ingraham, said he came into the meet with one mission and he accomplished it. "It went the way I wanted to," said the 16-year-old 11th grader at Tabernacle Baptist Academy. "From the start, I had a good start. I went through the curve aggressively and I kept going.
"I came here hoping to qualify and I did that, so I am very happy. Last season, I didn't do as well as I hoped to. This season, I'm hoping that I can break the (junior) national record of 20.6 (held by Steven Gardiner)."
Ingraham, who also has a Heats Athletic Club in North Andros, said he was proud of Jones' achievement and noted that it's just the tip of the iceberg.
"This is our first meet, so we were looking forward to qualifying," Ingraham said. "This year, he was just introduced to the 400m and he's liking it too. But we haven't done any speed work yet.
"We did a lot of strength for his speed endurance, but we hope to now start on his speed workout. So once we do that, we expect for him to go extremely fast."
Jones didn't run the century in the meet, but in the one-lap race, he clocked 49.44 for the victory, which was just shy of the meet record of 50.07 and was off the qualifying time of 48-02.
Ingraham said he's also pleased with his Heats Athletics Club in Andros.
"It's coming along. Pattie Rolle is in charge of the club while I am not there and she's been doing a fantastic job with them," Ingraham said. "She has a lot of young kids with her, so I think she's doing a great job so far."
Andros Heats Athletics was led by Frideline Augustin, who took the under-17 girls' 800m in 2:32.06.
In addition to the qualifying performances, there were a number of record-breaking feats at the meet.
Brianna Bootle of 3pa Stallions established her mark in the girls' under-9 200m in 31.83 and her team-mate Ayden Russell did the same in the boys' under-9 half-lap race in 33.61.
Host T-Bird Flyers' Adrian Woodside posted a time of 3:18.67 for record in the boys' under-9 800m, Fast Forward's Zara Fraser got the girls under-11 200m mark in 29.63 anbd Hurry Murray's Breyteisha Kemp took the girls under-11 800m in 2:56.39.
Roadrunners' Ta-mai Taylor won the girls under-13 800m for her new record in 2:44.94 and Hurry Murray's Christopher Minors got his in the boys' under-13 two-lapper in 2:35.60 and the 1,200m in 4:13.43.
Also on the track, 4-D's Stallion's Shaniyah Smith ran 2:37.97 for his record, team-mate Tkai Davis did 2:20.88 in the boys' under-15 800m in 2:20.88; 3pa Stallion's Jasmine Mackey in the girls' under-15 1,500m in 5:29.57.
Roadrunnners' Darius Pratt was the winner of the boys' under-13 long jump with a leap of 4.34m; T-Bird Flyers' Denzel Sawyer in the boys' under-17 1,500m in 4:44.13; Phoenix Track Club's Edward Munroe ran 1:57.76 in the boys' under-20 800m; T-Bird's Devonte Newbold in the boys' under-20 1,500m in 4:30.82 and Roadrunners' Jsckson Ozias in the boys' under-20 5,000m in 19:18.38.
St Trackers' Wendall Altidor set his mark in the boys' under-20 400m hurdles in 56.47 and University of the Bahamas' Gabrielle Shannon inked her name on the open women's 400m in 1:00.28 and her team-mate Amber Ford did the same in the open women's 800m in 2:23.80.
Not to be left out on the field were X-Treme Athletics' Kirshan Ferguson in the under-27 girls high jump with 1.40m; Leap of Faith's Stephira Farquharson in the girls' under 17 shot put with a heave of 1.82m; Throwers Inc's Tarajh Hudson won the boy's under-20 discus with 48.47 and shot put with 14.38m; Blue Chip Athletics' Michaelangelo Bullard in the boys' under-20 javelin with 56.79 and Leap of Faith's Amina Forbes in the girls' under-20 high jump with 1.55m.
Meet director Foster Dorsett said the 30th edition of the meet turned out to be a real competitive one.
"I'm satisfied that the competition was good, the support was good from the athletes, the coaches, the parents and the supporters," Foster said. "This was probably the best meet that we've ever had, so I'm pleased with it."