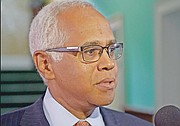 By NEIL HARTNELL
Tribune Business Editor
nhartnell@tribunemedia.net
The Minnis Cabinet will "certainly" receive a recommendation in the 2019 first quarter on which of three bids is best-suited to take over Junkanoo Beach and invest "millions" in its upgrade.
Dionisio D'Aguilar, minister of tourism and aviation, told Tribune Business that the outsourcing of the West Bay Street location's management to the private sector was "still very much front and centre" for his ministry as it continued efforts to identify a preferred bidder.
Describing the area as "kind of run down and tacky" in comparison to other elements of The Bahamas' tourism product, Mr D'Aguilar argued that this nation had failed to maximise the potential economic benefits from Junkanoo Beach's location near the heart of downtown Nassau and its cruise port.
He said a private sector operator, working with existing vendors and businesses to enhance standards and develop new attractions, would be better-placed than the Ministry of Tourism to extract greater spending by the thousands of cruise passengers and stopover visitors that already visit the area.
Praising the "incredible ideas" submitted by the three bidders, who he described as "all-Bahamian" but declined to identify, Mr D'Aguilar pointed to the quality of both Baha Mar and Atlantis's Marina Village as examples of what the Government has in mind, adding: "Why can't we do that at Junkanoo Beach?"
He promised, though, that any changes would not dislocate or disrupt any existing vendors there, adding that the Government and any preferred bidder would work in partnership with them to upgrade their products and services.
Little has been heard about the Junkanoo Beach outsourcing since the Ministry of Tourism advertised in early summer 2018 for Expressions of Interest (EoI) from private sector participants interested in taking over Junkanoo Beach's management.
However, confirming that the Government's strategy has changed little, Mr D'Aguilar told Tribune Business: "We've considered all the proposals, and are still contemplating which one we prefer. We haven't come to that conclusion yet.
"It's still being deliberated in the Ministry of Tourism. I think it was three proposals we received, and it's still very much front and centre. We are contemplating which one we are prepared to forward on to Cabinet for consideration. We're not there yet, but will be certainly by the first quarter. This is something the Cabinet will debate and come to a decision on."
Tribune Business reported last year that should a management deal be sealed, said the successful bidder will be responsible for billing and collecting rent from beach vendors, plus "enforcing the rules" and maintaining standards in a bid to improve the visitor experience at a destination that draws a significant number of cruise ship passengers and other visitors.
With this goal still uppermost in the Government's mind, Mr D'Aguilar said: "Junkanoo Beach and the Western Esplanade are currently visited by a considerable number of foreign visitors, mostly cruise passengers, and the current offering and current conditions and current infrastructure on that beach need refreshing.
"The beach has deteriorated, the toilet block is unsightly and needs relocating, and we need management to improve the quality and direction of the offering to foreign visitors. I don't think that is really something that should fall under the purview of the Government.
"It's better left for business people and entrepreneurs to create an environment where Bahamians offer services to people who use that beach. It's kind of run down, kind of tacky, and given that many of our foreign visitors end up on that beach we can offer something better and more spectacular. I just don't think we're doing that with the current construct."
Junkanoo Beach's potential management outsourcing thus falls within the Minnis administration's twin aims of getting the Government "out of business" and creating opportunities for small Bahamian businesses and entrepreneurs.
It also ties directly to the Government's efforts to revitalise the Bay Street/downtown Nassau area, and improve the tourism product offering. Its location, adjacent to the British Colonial Hilton and $200m Pointe development, and a key link between downtown and the Arawak Cay Fish Fry, means any upgrade will link into Nassau cruise port's potential outsourcing and the harbourfront boardwalk.
"This is an attempt to uplift the quality and variety of the offering on that beach," Mr D'Aguilar said of his ministry's Junkanoo Beach focus, pledging that existing vendors would not be pushed out regardless of the decision taken.
"We're not trying to take bread out of the mouths of the vendors down there," he reaffirmed. "We're trying to improve the overall experience. The current management structure is not ideal to bring about this rebirth and regeneration, and bring about a spectacular offering and really manage the relationship with Bahamian vendors and businesses down there.
"It currently comes under the Ministry of Tourism. We're like park wardens, making sure it's tidied up and there's some security, but we're not down there constantly and creating an environment that brings about a spectacular offering to the many tens of thousands of people that go down there on an annual basis.
"It needs some investment down there to improve the product offering, to set standards, to make sure it's surrounded by businesses that are well-kept, fresh, innovative and make it an area of excellence in what is offered to foreign visitors. We want as many Bahamians as possible to create successful businesses for themselves and be held to a certain standard."
Mr D'Aguilar said there was currently "no comparison" between Junkanoo Beach's offering and those at the likes of Atlantis, Baha Mar and the cruise ships - and the management outsourcing was intended to bridge that gap.
Asked how much investment would be required from the winning bidder to bring Junkanoo Beach up to standard, he added that "it'll be in the millions for sure" - suggesting it was likely to involve a seven-figure sum.
"There's a lot of room for improvement," Mr D'Aguilar told Tribune Business. "We have to be constantly thinking about these things. We can't put people there and forget about it.
"When these proposals came forward, it was incredible the ideas these groups had to improve that beach; a lovely promenade, place for cultural and musical events to occur, an area for beach, retail and entertainment activities."
He added that the beach itself also needed renourishing and replenishing, given that there was little sand left - especially at its western end.