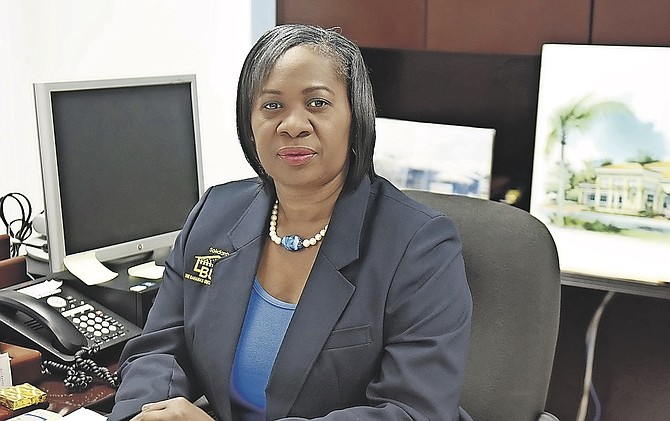 By KHRISNA RUSSELL
Deputy Chief Reporter
krussell@tribunemedia.net
WHEN the Bahamas Union of Teachers sits to negotiate its new industrial agreement with the government, a 20 percent pay increase over three years will be among the union's demands, BUT president Belinda Wilson has revealed.
Teachers, Mrs Wilson insisted, deserve this raise as they serve in a profession that requires a bachelor's degree prior to permanent employment at entry level.
The union leader said a higher cost of living is another reason why teachers need a raise.
Education Minister Jeff Lloyd confirmed his ministry was working on a counter proposal to the union's demands.
However, he said, their demands had to be contextualised with the requests of other unions, adding that for too long issues like these have been one-sided.
He said the country needed to move to a point where accountability is also factored into union negotiations. Nonetheless, he said, the raise could only be considered as far as the country's finances allow.
The pay raise for educators was featured in a proposed industrial agreement presented to Mr Lloyd seven months ago on June 20, 2018.
The union, Mrs Wilson said, is waiting for the government's counter proposal. A date has not yet been set for negotiations, although the union does expect for talks to begin this month, she said.
Asked if she believed the demand for more money was reasonable, Mrs Wilson said she did not view it as "exorbitant". The most recent pay raise for teachers was in 2016.
"First of all it should be noted that in order for a teacher to be employed, the level of qualifications has to be a bachelor's degree. So teachers for the most part have this and it is called a first degree," she told The Tribune. "We are among the few that require that at an entry level.
"If you look at a lawyer who has an LLB the equivalent to a bachelor's, they would start about $4,000 plus more than a teacher who has the same. So I don't think it's exorbitant.
"Also there has been a value added tax increase implemented since the last raise and the cost of living increased. I believe that it is reasonable."
She also said: "The minister also talks a lot about how other education systems are doing like Finland and Singapore, but they are paid at a higher level. Finland's teachers are paid on the same scale as medical doctors."
In response to the demand for more money, the minister said more must be expected.
During an address in 2017 to newly appointed teachers Mr Lloyd pledged to increase the salaries of teachers "to match the role educators play in society" as well as provide scholarships to instructors seeking to obtain master's degrees and PhDs.
"I am on record as saying teachers should be the highest paid but I am also on record as saying they have to be accountable," Mr Lloyd told The Tribune when contacted for this report. "When you look at the graduation rate, should teachers also be accountable? They should be accountable when they are in a classroom, six or seven hours a day. But they don't want to take that responsibility on. They will say it is everyone's responsibility.
"Are graduation rates going to improve? Will students at third grade level read better? You see where I am going with this? What is going to improve?"
More money is not the only element the union is seeking.
According to Mrs Wilson the BUT wants a significant change to the system.
"We know it cannot be changed overnight. This is our fourth industrial agreement. The first one was presented to the government in 2005 and in the fourth there is a repeat of some of the issues.
"For example the career path and special development of teachers this was initiated for years where we would be able to have the best and most experienced in the classroom and promotion to senior and master and have training while they remain in the class.
"So for eight or nine years they have not had a promotion to senior teacher or master teacher so something like that that has always been in our agreements. We now just want to see that done because it strengthens the system."
The union also wants to implement changes to the way at risk youth are handled.
"What we are asking is instead of them being sent home or walking about the street when there is a suspension, apart from receiving counselling and attention from pastors, teachers would be able to send along the work. So you would go there for behavioural changes, but you won't lose out on academic work.
"What is in place now has not been working and it's having a negative impact."
The union also wants curriculum revision, Mrs Wilson said.