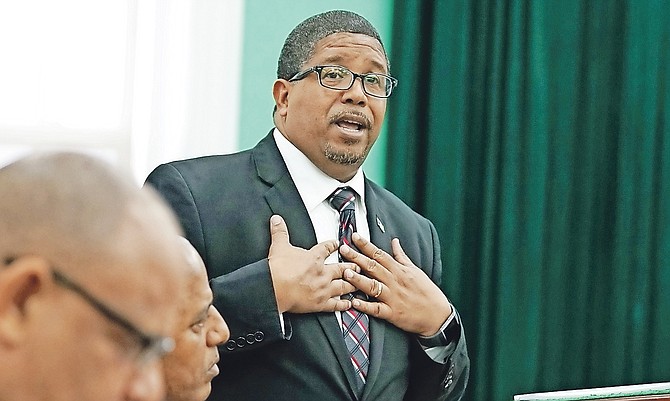 By NEIL HARTNELL
Tribune Business Editor
nhartnell@tribunemedia.net
The deputy prime minister yesterday slammed "false rumours" of a 35 percent currency devaluation and second VAT hike as "unpatriotic" for threatening The Bahamas' economic stability.
KP Turnquest, moving rapidly to dispel social media speculation that had "gone viral", blasted the spread of such claims as "very irresponsible" given that they could "shake the confidence" of both consumers and Bahamian businesses in the economy's prospects.
He warned that it could also "cause concern internationally", given that it may be picked up by foreign investors and companies conducting business with The Bahamas, as well as the likes of the International Monetary Fund (IMF), Moody's and Standard & Poor's (S&P), with the latter two constantly monitoring this nation's creditworthiness and ability to pay its bills.
Voicing concerns over the potential damage to The Bahamas' reputation, Mr Turnquest said the situation was "not a very good reflection on us as a people" and expressed hope that the rumours were not ignited by political mischief.
He urged Bahamians to apply more scepticism and critical analysis to social media postings, rather than immediately accepting them as fact or Gospel truth and starting to spread them themselves.
Mr Turnquest and the Ministry of Finance were forced to assert that the Bahamian dollar is under "zero threat of devalaution" as even attorneys were asking Tribune Business whether the claims relating to this and another VAT hike were true.
Alarmist social media messages seen by Tribune Business, under the banner "Breaking News", warned: "The financial crisis will hit by March 2019. The Bahamian dollar will be devalued to 65 cents to every US dollar.
"The VAT will increase to 15-18 percent by March 2019. The Government is not being truthful at all. We need help." Another referred to "the upcoming increase in VAT to 15-18 percent that the Government has planned for us on July 1".
Hitting back, Mr Turnquest told Tribune Business: "It's very irresponsible of people to be floating these kind of false rumours as they tend to shake the confidence of the general public who are unsure whether they are true or not. It does also have the potential to cause concern to international parties.
"It is very unpatriotic, very damaging to our reputation, and certainly not a very good reflection on us as a people or the body politic. I'm hopeful politics is not behind it."
Admonishing Bahamians to be responsible, Mr Turnquest said persons could support the political party of their choice "aggressively" without resorting to sparking and fuelling claims that could potentially undermine the economy.
"It's unfortunately gone viral," he told Tribune Business of the devaluation and VAT hike chatter, "and it's unfortunate we had to respond to it. We watched it for a couple of days hoping it would peter out, but it continues to have legs.
"People are asking about it, so it's important to respond to it and dispel that rumour once and for all. Given the ability of these words and postings to fly around the world, people need to be more responsible in putting out this kind of nonsense."
Calling on Bahamians to analyse social media postings more carefully, Mr Turnquest added: "It's very unfortunate that people are somewhat gullible to these things.
"Now, with What's App, it allows the most uninformed of us to be a newsmaker, so it's incumbent upon all of us to take a second look at the story and question the reasonableness of it before taking it to hearty and spreading them ourselves."
Mr Turnquest said he believed "reasonable people" would immediately see there was no "truthfulness" to the devaluation and VAT hike claims, but "enough of us" were reading and circulating it to force the Ministry of Finance "to clear the air" and prevent any actual economic word.
The "D-word", devaluation, is among those dreaded most by Bahamians because it means the Bahamian dollar will have lost its one:one parity exchange rate with the US dollar. Online purchases and Florida shopping trips would immediately become more expensive, import costs will rise and inflation increases, leading to a drop in living standards for all.
"VAT" is feared almost as much, especially since the 60 percent rate hike to 12 percent in last year's Budget is still fresh in everyone's mind. That, too, has cut purchasing power for many Bahamians, and the combination of the two was likely to spark concern among all who read the post.
The Ministry of Finance, rebutting these fears in its own statement, sought to scotch the devaluation claim by pointing out that the Central Bank foreign currency reserves that underpin the one:one US dollar peg currently exceed $1bn and are likely to be further boosted by a strong winter tourism season.
It also pointed out that the Government's Fiscal Strategy Report, released in November 2018, had ruled out the need for any further VAT rate increases over the next three years prior to the general election.
"The Bahamian dollar is under zero threat of devaluation," the Ministry of Finance asserted. "The foreign exchange reserves at the Central Bank that underpin the value of the Bahamian dollar are at a very healthy level, topping the $1bn mark. This is fuelled by the current strong performance of the tourism sector, from which the country earns the bulk of its foreign currency."
As for VAT, it pointed to the Fiscal Strategy Report, which said last November: "The Government is of the view that no further increases in the VAT rate will be entertained over the balance of its current mandate."
Whether that specific position may change if revenue continues to underperform, and deficit reduction targets set by the Fiscal Responsibility Act are missed, could be questioned by some.
Still, the Ministry of Finance blasted the combined devaluation/VAT hike claims as "completely fictitious" and "wholly untrue", adding that they stemmed from an unknown source. "The Ministry decries the malicious use of false information and the unwarranted concerns such untruths can cause throughout the country," it added.
"The Ministry encouraged persons to check with informed sources whenever they encounter noteworthy 'information' entering the public domain for the first time."