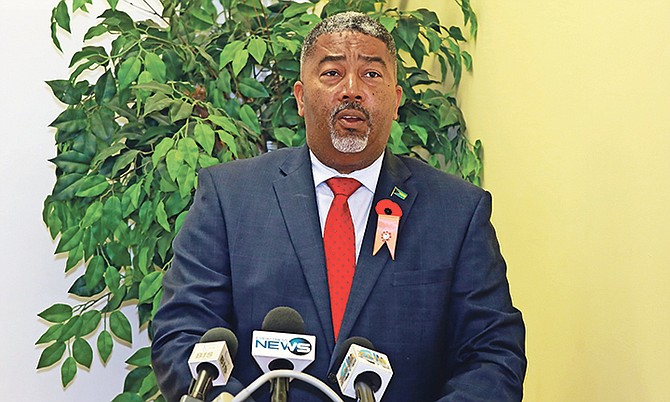 By MORGAN ADDERLEY
Tribune Staff Reporter
madderley@tribunemedia.net
AFTER he was roundly criticised for his "unbelievable" remarks when questioned about a rise in reported rapes, Minister of Social Services Frankie Campbell has apologised for his "insensitive" comments.
His statement came after former Social Services Minister Melanie Griffin described his remarks that rape is not a social services issue as "incredible" and activists questioned if he was aware of the elements of his portfolio.
"I am humbled at the opportunity to speak to mothers, fathers, women and girls, victims of rape, abuse and violence, and anyone else who may have been offended by a video recording of me that is in circulation," Mr Campbell said in a statement issued last night.
"I apologise for what seemed to be insensitive as I responded to media personnel. I was merely trying to avoid what appeared to be encroaching on another minister's portfolio.
"I am fully aware of the duties and core functions of the Ministry of Social Services and Urban Development which includes, but is not limited to, food assistance, shelter for all victims, including rape victims and victims of trafficking in persons, school and uniform assistance, the elderly, child protection, rehabilitation and persons with disabilities."
He said the incident caused persons to question his familiarity with the country's 2015 strategic plan to address gender-based violence. He said in the six months he has held the post, he has met with various groups and NGOs in an effort to bring this very strategic plan to fruition.
"I am committed, along with the ministry and its dedicated staff and all of our NGO partners, to honour, advance and promote all of the conventions to which the Bahamas is a signatory.
"In pursuit of the commitment articulated during the 2017 Speech from the Throne, the government has indicated a zero tolerance against all rapes and violence. Efforts to prevent violence against women require determining and addressing violence at its root. The Ministry of Social Services and Urban Development, through its many departments does precisely this, through the provision of counseling and crisis intervention and prevention services.
"As a husband and the father of one son and three beautiful girls for whom I want nothing but the best, as I do for all girls and women of our Bahamaland, this is more than just a job.
"As I would have indicated while representing you at the Committee for the Elimination of all forms of Discrimination Against Women and Girls (known as CEDAW), I give you my assurance that I remain committed to all of its articles not merely for the purpose of reporting internationally, but for the benefit, upliftment and improvement of our very own."
When contacted about the backlash surrounding her successor yesterday, Mrs Griffin
expressed shock at these comments.
"I just thought it was incredible," Mrs Griffin said. "First of all, I'm sure I heard him say that that was not a part of his portfolio…that social services is only supposed to be giving out social assistance. But you know that certainly is not the case.
"The Ministry of Social Services, through its Department of Gender and Family Affairs, has carriage for matters that affect women and girls, men and boys, and the family generally… "And so I just found it incredible that the minister would say that.
"The matter does fall under social services," Mrs Griffin continued. "There is a criminal part to it that…must fall under the police. But then there's a social aspect to it."
Likewise, Equality Bahamas Director and activist Alicia Wallace described Mr Campbell's remarks as "unfortunate and unacceptable," and also said a multi-sector approach is needed to combat this pervasive issue, which disproportionately affects women and girls.
In a statement released yesterday, Ms Wallace said: "Equality Bahamas rejects the false barrier the minister attempted to construct between himself and rape, noting that rape is a social issue and relevant to everyone."
There was a six percent increase in rape across the Bahamas in 2018, with 55 incidents reported compared to 52 in 2017. In New Providence specifically, there was a 22 percent increase in rape, with 44 incidents reported in 2018 in comparison with 36 incidents in 2017.
When asked by reporters on Tuesday if anything is being done by the Ministry of Social Services to prevent such incidents, Mr Campbell rebuffed reporters, insisting the alarming trend was not under his remit and going so far as to push reporters' microphones away.
"You're talking about crime prevention," Mr Campbell said when pressed further. "Social services is about poor people who need food, people who need social assistance. Let's talk about that.
"You could see I'm trying to avoid that, I don't avoid talking to you but I want to stay in my lane," he added.
Equality Bahamas said it was unfortunate Mr Campbell chose to put distance between his portfolio and the "pervasive issue of rape".
"Rape disproportionately affects women and girls who should be prioritised by the Department of Gender and Family Affairs which is under the Ministry of Social Services and (Urban) Development.
"Ministries need to work together, be fully aware of pressing issues, able to access and share information necessary to appropriately respond to issues and queries, and to resist any desire or directive to operate in silos," Ms Wallace said. "A multi-sectoral approach to violence against women and other issues of gender is critical.
"Equality Bahamas calls on Ministry of Social Services and (Urban) Development to lead the government's effort to address issues of gender through the expertise of its staff and civil society partners. It reminds the minister of the years-old national gender policy and a gender-based violence report, following years of work by the National Task Force on Gender-Based Violence, that have not been implemented."