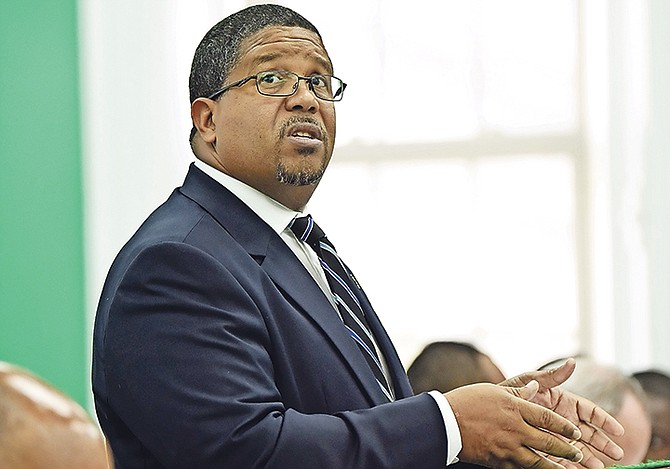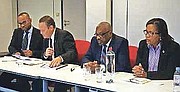 By RASHAD ROLLE
Tribune Staff Reporter
rrolle@tribunemedia.net
DEPUTY Prime Minister and Minister of Finance Peter Turnquest defended Prime Minister Dr Hubert Minnis' travel to meet European Union officials after former Foreign Affairs Minister Fred Mitchell attacked the trip.
Mr Mitchell said in a government that has a finance minister, a foreign affairs minister and a minister responsible for trade, Dr Minnis should not have made the trip.
Meeting with European Union officials, none of whom are of equal rank to a prime minister, "makes our country look like a country of grovelling mendicants with our caps in our hands saying: 'Please, sirs, we want some more,'" he said.
Responding yesterday, Mr Turnquest said: "Whenever you are dealing with international organisations, there are different levels of conversation that you have. The prime minister has gone to solidify the position that the Bahamas government has put forth to clear up a few final issues that we have and he will make a report when he comes back, but early indication is that it was a very successful trip. The technical people have already gone. We have satisfied the technical aspects of it. This is more of a diplomatic mission at this point, clear up a few points as I indicated."
Mr Turnquest said the country should not be worried. The EU and the Organisation for Economic Cooperation and Development have put intense pressure on the Bahamas to reform its financial services sector or face blacklisting, prompting several pieces of legislation that have been passed in the last year.
Mr Turnquest said: "We believe we are in good shape again. The assessments will come from external groups in a couple of weeks and we will know whether we have satisfied their concerns or not. This is an evolving situation as we all know as it has been evolving for years and it will continue to evolve and as those challenges are put before us we'll address them."
In a statement Tuesday night, the Office of the Prime Minister said the nation's leader had a constructive meeting with the European Commission where it discussed the country's commitments.
"Tuesday's meeting between the prime minister and the director general is part of an ongoing process which included prior technical meetings," the statement said. "It provided the opportunity for the prime minister to reaffirm the commitments of the Bahamas at the highest levels. The meeting also allowed the attorney general to give an overview and discuss the new legislative regime with the director general. The director general welcomed and appreciated the presence of the prime minister and the significant commitment demonstrated on behalf of the Bahamas."