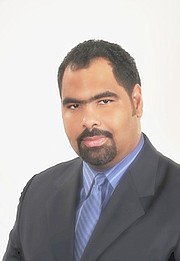 By NEIL HARTNELL
Tribune Business Editor
nhartnell@tribunemedia.net
Delinquent Bahamian borrowers were yesterday warned to urgently get their finances in order after the Central Bank selected the preferred bidder for this nation's first-ever credit bureau.
Gowon Bowe, the Clearing Banks Association's (CBA) chairman, told Tribune Business that its creation "is going to be a tremendous shock" to Bahamians with poor credit histories who will face higher borrowing costs and greater difficulty in obtaining loans.
Explaining that the credit bureau "will separate the sheep from the goats", Mr Bowe said it will drive home to deadbeat borrowers that "bad behaviour has real consequences" for their financial well-being when it goes live.
He warned Bahamians with a history of defaulting on their loan obligations and/or over-extending themselves to take advantage of the lead time required for the credit bureau's implementation to remedy their financial affair, given that it will take several months before becoming operational.
But, besides the negative implications, Mr Bowe said the Credit Bureau's arrival will benefit good borrowers who are "tarred with the same brush" because lenders simply do not know if they possess full information on their credit histories. Such persons and companies are expected to enjoy lower interest rates (borrowing costs) when the Credit Bureau fills this vacuum.
The Clearing Banks chief, who represents all Bahamas-based commercial banks, spoke out after the Central Bank revealed that Italian-headquartered CRIF S.p.A had been selected from three bids to own and operate this nation's first-ever Credit Bureau.
The process, which began when offers were formally sought in April 2018 via the Request for Proposal (RFP), saw an evaluation committee comprising private sector and Central Bank representatives conduct interviews with all three bidders and site visits to their existing operations.
CRIF S.p.A, described as a provider of Credit Bureau services, business information and credit solutions services, was said to have a presence in 30 countries in the Caribbean, Europe, North America, Africa and Asia. It has now been invited to apply for the licence to establish The Bahamas' first Credit Bureau, marking another step in a long-running reform process.
Mr Bowe, who represented the Clearing Banks Association on the committee, revealed that Bahamians with poor credit histories - and who frequently defaulted on their loan repayments - will receive the biggest shock from the Credit Bureau's eventual arrival.
"It's going to make every individual accountable for their credit decisions," he told Tribune Business. "Individuals may not come out on the positive end of this, but that's like asking for there to be no consequences for bad decisions.
"Individuals have the ability over the coming months as we go through the implementation to rectify the situation that will lead to negative reports on them." The Credit Bureau's need to acquire data from Bahamian banks and lenders, then format it into useable reports on loan applicants, plus educate all market participants means it will not become operational immediately.
As a result, Mr Bowe said delinquent Bahamian borrowers now have a short window of opportunity to become current with their existing loan obligations and improve their credit scores, negotiating restructured payment plans with lenders if they have to.
Credit Bureaus, which are found in most countries, collect personal and financial information on persons and companies, and then issue this to client lenders via a credit report. The arrival of such a facility in The Bahamas is designed to provide lenders with a complete credit history on potential loan applicants, enabling them to understand and manage each client's risk accordingly.
"The key element is really separating the sheep from the goats," he told Tribune Business of the Credit Bureau's objectives. "When I say that I mean the bad from the good. The term used is shining a light on the credit profiles of individuals; what was once in the dark because information was not shared between institutions.
"A borrower could get a loan from Bank A, default and go into Bank B and get another loan, and not report either to each of them. It really is going to address the integrity of the borrower whether we like it or not.
"It's going to add greater accountability and transparency to their credit approvals as it will be the 'trust but verify' approach. We trust you to give us the information, now we have to verify it."
Mr Bowe added that the Credit Bureau's creation will make access to loans and debt capital "more equitable", as individuals and companies with good repayment histories will likely be able to secure lower interest rate costs than more dubious counterparts.
"Individuals that currently come into a financial institution are almost all tarred from the same brush as sub-prime borrowers, and have to demonstrate they are prime borrowers deserving of lower interest rates," he explained.
"Banks will be able to see those individuals who have made consistent payments, have no defaults and are of good credit quality, and should benefit from lower interest rates. The process will be better fact-driven than it has been in the past. Presently, lenders have to make a lot of decisions based on their own investigations and knowledge. Now they will be based on accurate reports."
Predicting that the Credit Bureau will spark a major cultural shift, the Clearing Banks chief added: "I think it's really going to be a tremendous shock. It's really going to make individuals accountable for their decisions.
"Before they remained undetected, but now bad behaviour will have very real consequences. If you do not work with institutions to meet your obligations from a moral and economic perspective, you're going to suffer increased borrowing costs. Honour the commitments you have taken out, and if in difficulty work to restructure the loan in line with what you can afford in his period of personal hardship."
Mr Bowe revealed that CRIF S.p.A already operates a Credit Bureau in Jamaica. He added that one of the RFP's criteria required businesses to have experience of operating such facilities in an economy of similar size to The Bahamas.
Emphasising that the selection process was "not Central Bank or government run", although the former will regulate CRIF S.p.A, he added that the private sector was fully involved in the final decision.
"There's a reasonable expectation that the process should be able to be completed in a relatively short period of time; weeks, not months," Mr Bowe said of the license application phase, given that it will require much the same documentation as CRIF S.p.A submitted in the RFP.
More time-consuming will be the Credit Bureau operator's acquisition of borrower data from all Bahamian banks and other institutions required to provide such information, and its formatting into standardised, usable credit reports on all loan applicants.
"A large part of the implementation project will be dialogue with the banks and financial institutions, which are mandated by law to participate," Mr Bowe revealed. "Not all territories do so, but we have learned from others' experiences and made it mandatory to participate."
He added that the Credit Reporting Act also enables the Central Bank to "designate other institutions and industries", such as utility companies and payday lenders, to provide data to the Credit Bureau as it evolves.
Mr Bowe declined to put a timeline on when the Credit Bureau will be operational, although he revealed that other Caribbean nations had been able to do it within 12 months of the provider's selection.
Much, he added, depended on the quality of data and interface between lenders and Credit Bureau, although the Canadian-owned banks experience of working with CRIF S.p.A in Jamaica could reduce the time required in The Bahamas.
"From the Government and Central Bank's perspective they want it done in a structured but efficient manner," Mr Bowe told Tribune Business. "We have to make sure data providers and consumers are educated about the process.
"We learned from other territories that we can't underestimate that. The education process is going to be critical across the board."
The International Monetary Fund (IMF), in particular, has pushed for the creation of a Bahamian Credit Bureau, urging as recently as December "the speedy establishment of the Credit Bureau to enhance credit market efficiency, increase credit growth, and help financial inclusion".
The Bahamas' Credit Reporting Project was launched by the Central Bank in 2010, in a bid to establish a national credit reporting system that included the Credit Bureau. The Bill and and accompanying regulations to give legal effect to its creation were first issued for public consultation in September 2014, and were further revised since before finally being brought for debate and passage in Parliament earlier this year.
The Central Bank has long believed that the banking industry's non-performing loan crisis in the aftermath of the 2008-2009 recession may have been mitigated, to some extent, if a Credit Bureau was already in existence to provide more accurate, up-to-date information on the creditworthiness of borrower candidates.