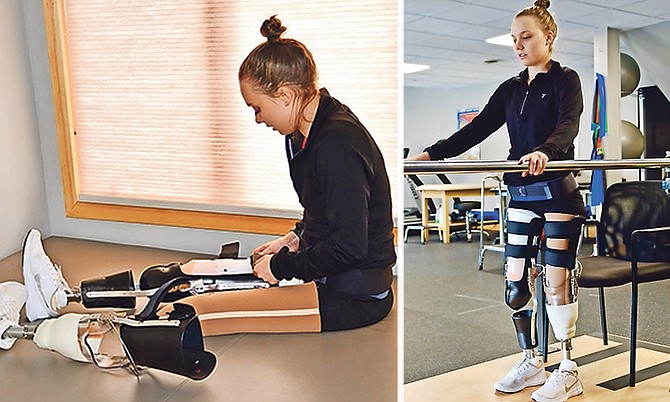 By Nina Keck
Vermont Public Radio
FOR 22-year-old American dancer turned double amputee Stefanie Schaffer, the trauma stemming from last summer's deadly Exuma tour boat explosion has not subsided.
In an interview with Vermont Public Radio (VPR), the Rutland, Vermont native said she was still working daily to reclaim her life after only being given a 50 percent chance of survival.
"I just remember, like, sheer panic," she told VPR. "And I couldn't tell you what was going on at the time. That's just … wake up, and I remember, like, something terrible happened."
On June 30, 2018, a 40-foot chartered tour boat was travelling in waters just off Barraterre, Exuma with 10 passengers and two crew members on board when an engine exploded causing the vessel to catch fire.
The incident killed Tennessee native Maleka Johnson and injured several others, including Ms Schaffer and her mother, Stacey Bender.
The two women were airlifted to Nassau where doctors, working to save Ms Schaffer's life amputated both her lower legs.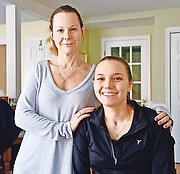 She was later flown to a hospital in Fort Lauderdale, Florida, where she was placed in a medically induced coma as doctors worked to treat her remaining injuries. Ms Schaffer had a broken upper leg bone, broken pelvis and broken back; she had also fractured her right wrist, shattered her left forearm and damaged her liver and spleen.
Her kidneys had also shut down due to blood loss, resulting in constant dialysis.
Her mother, who was treated for multiple fractures and a collapsed lung, said it was hard to watch the doctors try and put her daughter back together.
"So to picture your daughter lying there with all those breaks… I mean, I knew that she was sleeping, and couldn't feel anything. But the thought of all that ... and I kept thinking, 'How is she going to be strong enough to get through these surgeries'?" Ms Bender told interviewers.
Over a six-week period, doctors gradually brought Ms Schaffer out of the coma, but her condition remained critical.
During her recovery the 22-year-old developed pneumonia and needed to have the news about the loss of her legs retold to her multiple times - a fact Ms Schaffer would later describe as her brain's refusal to believe it.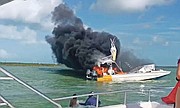 "I remember having this clear thought of looking at my legs and seeing that they were hurt, but to me they were just bandaged," she said.
"And I remember thinking, 'Well, thank God I didn't lose my legs,' you know. And then a day later I'm told, 'You lost your legs.' And I was like, 'What do you mean? They're right there,'" she added.
Ms Schaffer said once she was able to accept the reality of losing her legs, her condition slowly improved.
She was transferred from Fort Lauderdale to Boston after six weeks, first to a hospital, and then on to a rehabilitation facility where she met several survivors of the Boston Marathon bomb attack who had lost their legs.
"It was pretty awesome, because they heard about the accident, they reached out to me," she said.
"They walk into the hospital and they visit you and they tell you about their work and their family and everything that they're doing - and you just see that it's still possible as an amputee.
"It's like you join a family. It's not one that you ever think you're going to be a part of, or that you really want to be a part of, but it makes the whole situation a little bit better," she added.
Approximately five months to the day after the accident, Ms Schaffer was allowed to go home.
Although overjoyed by her release, the reality of her new life quickly sank in.
"I thought by the time I made it home that I would be walking in and that things would be normal, and I didn't realise how hard for me it was going to be," she admitted.
Ms Schaffer's new reality didn't stop there; she said plans to make her bathroom more accessible hadn't materialised as expected.
"We dropped her yesterday," her mom told the station. "So that was our first real fall trying to get into the shower, and we couldn't get her out. She couldn't get up so we had to call her dad who had to close his ski shop and come down and pick her up off the floor."
Ms Schaffer's life is now filled with moments like this according to her family.
"Most days I'm good," Ms Schaffer said, "but there's still days where it'll just hit me and I just realise how different everything is. And I'll just, you know, need to stay at home, just cry for a whole day."
She continued: "And my mom's pretty awesome. She just lets me cry. You know, and that's really all you need. You just need someone to just sit there and let you cry."
Since returning home, Ms Schaffer has signed up for online college courses at Castleton University as she looks to complete her degree.
She has also started physical therapy, which she does three times a week.
She is currently learning how to walk with crutches.
As a child, she studied ballet, skied and played soccer, and doctors have repeatedly told her that her strength and athleticism probably saved her life.
At a recent session, Ms Schaffer slowly manoeuvred the crutches across a black mat, lifting her hips to swing around each leg in turn.
"It doesn't always feel like I've come very far," Ms Schaffer said. "But then when I really think about it, think where I was at the beginning — you know, I wasn't awake, and I couldn't even sit up on my own and I couldn't move out of bed at all.  
"I don't want to stay like this for the rest of my life," said Ms Schaffer. "You know, I want to get better, and I just gotta keep trying."
To date, Ms Schaffer's medical bills stemming from the accident have topped $2 million.
In addition to insurance, a GoFundMe campaign has raised more than $174,000 to help with those medical bills and upgrades to her family's home.
Schaffer told VPR the money will also help her buy new, lighter prosthesis to replace the pair she wears now.
Schaffer said the money will also help her buy new, lighter prosthesis — they'll replace the pair she wears now, which admitted she hated at first. "I was so embarrassed and I was so self-conscious," she said. "I remember thinking, 'I'll never wear shorts or a swimsuit again.' But now, that I've realised how hard it is to walk, I'm like, I can't wait till I get better prosthetics. And I'm kinda thinking that it's going to be kind of awesome for everybody to see that I have prosthetics because they're going to look at me and they're gonna know that I've, you know, worked super hard to be up and walking."
Ms Schaffer's family has also filed a civil suit against Four C's Adventures, the tour company at the centre of the tragedy.
Last October, Four C's Adventures owner Clayton Smith and one of his tour boat captains Roderick Watson were charged manslaughter by negligence and nine other counts of causing negligent harm concerning the deadly explosion.