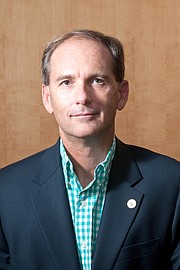 By NEIL HARTNELL
Tribune Business Editor
nhartnell@tribunemedia.net
The deputy prime minister was yesterday praised by a governance reformer for placing "saving the country" over political gain through the government's economic restructuring plans.
Robert Myers, the Organisation for Responsible Governance's (ORG) principal, told Tribune Business it was "critical for the survival of The Bahamas" that the entire Minnis administration follow KP Turnquest's lead even though it may not receive any political benefits from it.
Backing Mr Turnquest as "100 percent correct" in recent remarks to Tribune Business about the size of government, the need to tackle long-standing structural deficiencies in the economy, and provide more help to entrepreneurs, Mr Myers said reforms in these areas "have to get done whether they're politically favourable or not".
"I'm very pleased to see he's acknowledging and understanding that because that's the first step to correcting it," the ORG principal said of the deputy prime minister's remarks on the costs imposed by the Government's size.
"Getting policymakers and decision-makers to understand that is a significant danger is hugely important. We're not going to get change unless people acknowledge change is necessary and required."
Mr Myers warned that The Bahamas, especially the private sector and households, could "collapse under the weight of that inefficient government; no doubt about it".
He added that the Bahamas cannot afford to take on any more borrowing to finance increased employment in the public sector and civil service, and said: "They've grown the Government for political reasons just to create employment because they could not do it otherwise. It's high time that changes."
Mr Turnquest on Tuesday said The Bahamas needed to address the "tremendous burden" that the government's size was imposing on the private sector and households to fund it, arguing that this was depriving businesses of capital that could be put to "more productive use".
He added that previous administrations were likely "more pre-occupied" with the political impact of potential reforms, but added that the current government could ill-afford to adopt the same mindset with the economy's "twin pillars" - tourism and financial services - coming under ever-increasing competitive and regulatory pressures.
"The reality is the Government has been the major employer of record for too many years," Mr Turnquest told Tribune Business, "and the burden of that public sector puts tremendous demands on the system for capital that should be employed in the private sector for more productive use.
The deputy prime minister then indicated the Minnis administration was seeking to shed the politically-led decision-making of the past by implementing critical economic reforms that might prove unpopular at first, and where the benefits may take time to materialise rather than provide an instant election winner.
"We cannot expect to really remove structural deficiencies in the make up of the economy in two, three, five years, but we have to make a start," he told Tribune Business. "This is not one where we are going to receive any immediate political benefits from, but it's absolutely necessary if we're going to build a sustainable economy going forward.
Mr Myers yesterday branded Mr Turnquest's latter assertion as "absolutely fantastic" and "spot on", warning that time was rapidly running out to reposition the Bahamian economy for faster GDP growth rates and improved job creation.
He added: "He should be commended for his honesty, and hopefully the Government can be commended for its work in acting upon that. I'm glad to see there's the admittance and understanding of that kind of necessity.
"The sands in the hour glass are already running thin. We already have significant debt, so if we don't start to get that sorted out then our debt-to-GDP ratio will keep rising.
"We're out of time. We don't have any headroom. If we don't start resolving that debt we will have to reduce the size of government to get that ratio down. We're $8bn in debt; we don't have any more room, so it's imperative that we get this thing fixed."
Mr Myers continued: "As the deputy prime minister pointed out, it's not work that helps him but saves the country. Whether the voters understand that or not is a shame for this administration politically but critical for the survival of the nation.
"They understand that they may not get the benefit of that but, my God, it's yeoman's work. It has to be done. It has to get done whether it's politically favourable or not."
The Bahamas' persistently high unemployment rate, which has remained in the "double digits" since the 2008-2009 recession despite Baha Mar's arrival, is viewed as a sign that the current economic model cannot take the country much further and is in need of major reforms.
Many Bahamians, though, remain attached to the "status quo" and are fearful of change - something that was acknowledged by Mr Turnquest this week. With large numbers living pay cheque to pay cheque, and/or struggling daily to make ends meet, few are focused on the bigger picture and The Bahamas' economic future.