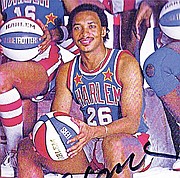 By BRENT STUBBS
Senior Sports Reporter
bstubbs@tribunemedia.net
OSBOURNE 'Goose' Lockhart, the first foreign born player to participate on the world famous Harlem Globetrotters, will be honoured with two other former greats as Globetrotter Legends.
Lockhart will join Michael 'Wild Thing' Wilson and Matt 'Showbiz' Jackson, who all played a combined 48 seasons and collectively visited nearly 200 countries during their time as Globetrotters. They will receive the team's highest honour short of jersey retirement during their 2019 Fan Powered North American Tour.
While Wilson was honoured on January 18 in Memphis and Jackson received his own on January 20 in Atlanta, Lockhart will collect his Legends ring on March 30 in Minneapolis.
Created by the Globetrotters organisation in 1993, the "Legends" ring is presented to retired Globetrotters who have made a contribution to the success and development of the Hall of Fame organisation.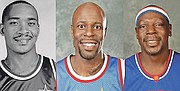 Each honouree exemplifies the Harlem Globetrotters' humanitarian contributions.
"It's a great honour. It's a great honour," said Lockhart when contacted by The Tribune for comments.
"It puts me in the category with all of the greats like Meadowlark Lemon, Fred 'Curly' Neal, Marques Haynes, who was my first coach, James 'Twiggy' Sanders, so that's big," he said.
As a superior ball handler and shooter during a 17-year career with the Globetrotters from 1978 to 1995, Lockhart said he just went out and did what he had to do to entertain the fans.
"I went through some hardships as far as travelling," said Lockhart, recalling his days as a foreign-born player with the team. "I had to change my passport just about every year because the pages were all filled out. "There were times when we got to countries, I was the one held back in that little room because I wasn't an American. But it all worked out."
Following his playing days, Lockhart also spent two different seasons as the head coach of the Globetrotters in 1997 and 2000.
The Globetrotters are currently in the midst of their 93rd year of touring with the Fan Powered World Tour, during which the team will play in more than 250 North American markets, as well as 30 countries worldwide.
Compared to when he was a part of the team, Lockhart said the Globetrotters have gone through a major transition.
"The team has changed a lot, as far as the show is concerned," he said. "It's catering more now to showmanship than actual basketball. "Today, they are playing less basketball than they used to play. But it's still exciting. People still enjoy it. They have four teams on the road now. Back when I played, there was only two teams."
From his appearance on the team, three other Bahamians were able to follow in Lockhart's footsteps. They were Kendal 'Tiny' Pinder, Ray Rose and Grand Bahamian Mario Greene. Nowadays, Lockhart lives in Broward County, Fort Lauderdale, Florida, where he works as a case manager and coaches golf, basketball and soccer at the Harmony Development Center.
Lockhart, a former member of the national soccer team at the 1971 Pan American Games, said he would love to bring the programme home, but he hasn't found the right persons to connect with here.
The 64-year-old was also remembered as a member of the "Jackson 5" that took Miami Jackson Senior High Generals basketball team to an unprecedented perfect 33-0 win-loss record in winning the Class 4A state championship.
Following that milestone in 1973-74 with Bahamians Mychal 'Sweet Bells' Thompson, Charles Thompson and Cecil Rose (in addition to a Cuban), Lockhart went on to star for the University of Minnesota Gophers.
"I tell people all the time that in high school, we were like rock stars," Lockhart pointed out. "Most of the time, we only played a half of a game because the score was out of control by halftime."
As a three-year starter, Lockhart scored more than 1,100 college points and was team captain for the Gophers during his senior campaign.
At the completion of college, Lockhart was drafted by the Philadelphia 76ers, but he was beaten out in the final guard spot by Maurice Cheeks.
"I went into Philadelphia camp. I had a good camp, but everybody couldn't make it," Lockhart stated. "Maurice Cheeks was the only guy they kept. In fact, they sent our draft team to play in a tournament in Montana and we went undefeated there.
"Me and Maurice Cheeks were room-mates. He's a good player. It wasn't any doubt that I had the talent to play in the NBA. I never took the time to go back and try out the following year."
Three days after he was released by the 76ers, Lockhart went to the Globetrotters camp and he was immediately picked up to play for them.
The rest as they say was history.
"No regrets. That's just wasting time," said Lockhart about not getting into the NBA like Mychal Thompson, who was the first foreign-born player selected in 1978 and went on to represent the Bahamas from 1978-1992, winning back-to-back titles with the Los Angeles Lakers from 1987-88.
"I just moved on and enjoyed a great time with the Globetrotters."