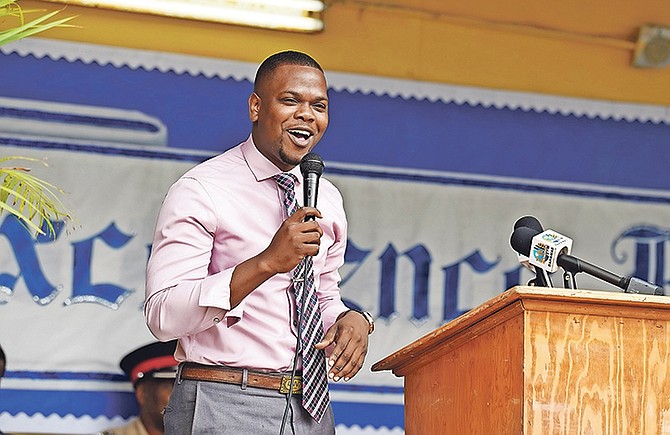 By RICARDO WELLS
Tribune Staff Reporter
rwells@tribunemedia.net
BAIN and Grants Town MP Travis Robinson yesterday urged students at Government High School not to let their circumstances dictate their future, imploring them to recognise their time as students provides them with an opportunity to create better lives.
Mr Robinson made his call while delivering the key note address at the school's award ceremony, held to honour students who earned a grade point average (GPA) of 3.0 or higher last term.
The former parliamentary secretary, highlighting his upbringing in Bain and Grants Town and being bullied while in school, told students their current sacrifices and shortcomings would eventually become a launching point for their future successes.
Mr Robinson, in recalling times he considered dropping out of school, said it took his failures and intense want to succeed to spur his turn-around, a decision he said has propelled both him and his family into a better life.
"But it wasn't easy. It took discipline and dedication, it took a belief in myself to know that excellence begins with me," he told the students. "I can't keep blaming my friends and classmates for making noise on the side of me.
"I can't keep blaming the brothers on the blocks when I go down to the mall with them, leaning against the wall spying on all the lil' chicks walking past. That I can't keep making mistakes and blaming everybody for why I don't succeed in life," Mr Robinson added.
"So when I see young brothers who think they are the end all and be all, the big bad bullies on the blocks, so I tell you Government High School, the young boys and brothers out here - ain't nothing cute about walking down the street with your pants below your hip aye, ain't nothing cute about it and it sure ain't excellence.
"Holding up gun you… walking with a big clip don't make you any more less protected than you are when you are by yourself. So at some point I want you to realise that this culture, this nation is depending on each and every one of you as young people. That whether or not our nation succeeds is in each and every one of your hands."
Mr Robinson challenged the female students to not become victims of teenage pregnancy.
"I can remember so many young persons, so many young girls who graduated with me when I left C R Walker and today they have three and four children; two and three years later after graduation walking around with three and four children," he said.
"GHS young ladies don't let that be your story. You have the opportunity today to make the decisions you want for a better life tomorrow.
". . .What is your moral? What is your principle? How long are you willing to go?
"Mothers and fathers make sacrifices for you every day. Teachers come to school and they teach you the best they can. We are in a country where we enjoy the right to free education, you don't have to pay to come to school – it is free."
Also on hand for yesterday's ceremony was National Security Minister Marvin Dames, a graduate of Government High School and current member of Parliament for Mount Moriah.
Mr Dames applauded the school for its continued excellence and encouraged students to view graduates like him and sports heroes, Pauline Davis-Thompson and Eldece Clark, as examples of what could happen if they worked hard and dedicated themselves to success.
Mr Dames further reminded students of their school's exemplary history, telling them that GHS was once the pride of the Bahamas - insisting that it was time for current students return the school to its former glory.
In total five students - Oliva Ferguson, Tametrya Brown, Israel Johnson, Anne-Jeanclouse Chachoute and Zaria Major - were named to the school's principal list, obtaining GPAs between 3.5 and 4.0.
More than 50 others were named to the honour roll list, obtaining GPAs between 3.0 and 3.5.
The school also celebrated the recent national success of its debate and volleyball teams, with both squads capturing championships this academic year.