By NEIL HARTNELL
Tribune Business Editor
nhartnell@tribunemedia.net
Bahamian workers earning more than $35,000 per year will have to pay the majority of their National Health Insurance (NHI) premiums from their own salary, it was revealed yesterday.
The NHI Authority, in a late afternoon briefing for the medical industry and private sector, unveiled a revised tax/contribution schedule that - at the top level - requires high-end management executives earning more than $66,667 to pay 100 percent of the annual $1,000 Standard Health Benefit (SHB) premium.
The more progressive contribution structure, which will see higher-earning Bahamians contribute more than their lower income counterparts to the scheme's financing, was among several proposed adjustments that also involve abandoning NHI's initially-planned staggered launch.
The scheme's policy document, launched last year to kick-start public consultations, called for a January 2020 launch of contributions for companies with 100 employees or more. That was to be followed by an expanded roll-out to include all businesses with an annual turnover of $100,000 a year or more in January 2021.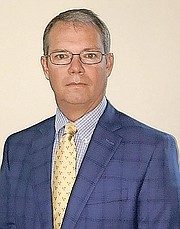 However, Michael Maura, the Bahamas Chamber of Commerce and Employers Confederation's (BCCEC) chairman, confirmed to Tribune Business that the NHI Authority is now proposing that there be one, single launch for all in July 2020.
Mr Maura, who attended yesterday's meeting, also confirmed that the exemption threshold for small Bahamian businesses - below which they will not have to purchase the SHB, NHI's minimum level of coverage, for employees - has more than doubled from $100,000 to $250,000.
He added that the NHI Authority received "little push back" in yesterday's meeting, which was attended by between 50-70 representatives from the medical industry and private sector, as most present acknowledged the need for Bahamians and legal residents to have access to affordable healthcare when they needed it.
Dr Robin Roberts, the NHI Authority's chairman, was also said to have gently reminded attendees that "the train has already left the station" through NHI's April 2017 launch under the former Christie administration prior to the general election.
Some 50,000 Bahamians are already using NHI's services, but Mr Maura said Dr Roberts and Graham Whitmarsh, NHI's managing director, assured healthcare industry and private sector representatives present that they have "not closed the door" on constructive suggestions that could improve the scheme despite the consultation period ending.
"They did make material adjustments to the plan as previously articulated," the Chamber chairman said of yesterday's meeting and presentation. "They had initially anticipated having a launch on January 1, 2020, for those companies with a minimum of 100 employees, and having a January 1, 2021, roll-out for small businesses that now have revenues in excess of $250,000.
"They have moved away from that. July 1, 2020, is now the mandatory roll-out for all businesses with over $250,000 in annual revenues."
Mr Maura confirmed that the NHI Authority has also shifted the tax/contribution burden as "previously articulated" by this newspaper. The proposed employee contribution, which was initially set at 2 percent of gross wages, has now been dropped to a 1.5 percent rate.
However, the previous "cap" that limited employee contributions to a maximum of $500 per annum, has now been removed to make way for a more progressive structure that will see higher-earning Bahamians - rather than their employers - contribute the bulk of their NHI premiums.
"The way the formula now works is you contribute 1.5 percent of your gross wages up to a maximum of $1,000," Mr Maura explained. "The way this is structured, if you happen to be earning $66,667 annually you are going to carry 100 percent of the SHB's $1,000 premium cost and the employer will pay zero.
"If you're on the other extreme, the employee that earns a maximum of $5,000 per annum will pay $6.25 per month and their employer $77.08 per month. As your income increases your share of the premium also increases.
The initial NHI contribution structure, complete with the employee cap of $500 per annum, would have seen workers earning $25,000 and up paying 50 percent of their monthly premium - a figure of $41.67 per month, which would have been matched by their employer.
The revised structure, which will be presented to Cabinet for its approval, tears that plan up. Employees earning $35,000 annually will now have to pay $43.75, or 52.5 percent, of their monthly SHB premium with the employer contributing the minority balance.
Workers earning $45,000, $55,000 and $65,000 annually will have to pay 67.5 percent, 82.5 percent and 97.5 percent of their NHI health insurance costs, respectively. In contrast, employers will have to pay 92.5 percent of the premium cost for workers earning less than $5,000 per annum.
Employer contributions will also increase for workers earning $10,000, $15,000, $20,000 and $25,000 per annum when set against the initially proposed fee schedule. For these income categories, companies will be contributing between 85 percent and 62.5 percent of the premium cost.
The revised NHI contribution structure is thus effectively a rebalancing of the payroll tax burden, shifting it away from lower and middle income employees towards their higher-earning counterparts and the employer - especially larger companies and those where the workforce falls into the lower/middle income category.
In seeking to make the structure more progressive, and link contributions to ability to pay, the NHI Authority has also lifted the contribution burden from more small businesses and start-ups by increasing the exemption threshold from $100,000 to $250,000.
Mr Maura told Tribune Business that "there remains some concern" over the ability of minimum wage workers to afford NHI contributions, but added that there was a general acknowledgement at the meeting that Bahamians without private health insurance needed greater access to affordable healthcare.
"We can see how, if you are an individual in need of medical coverage, this is obviously a very positive step in that you'll be able to get the appropriate care," he said. "The meeting went very well from their [the NHI Authority's] perspective with no push back in the meeting itself.
"Generally, everybody appreciated that Bahamians and legal residents should be given the ability to get health when needed."
Mr Maura added that there will be "a common enrollment" period for NHI between March to April every year when companies will have the ability to choose, and switch, between their insurance provider. Employers will also be able to add and remove workers from the scheme.
The Chamber chairman added that "with every programme there are winners and losers", although the unemployed, retirees and persons to young to work will be covered by the Government under NHI.