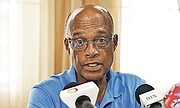 By KHRISNA RUSSELL
and RICARDO WELLS
Tribune Staff Reporters
EDUCATION Minister Jeff Lloyd said his ministry has not yet taken the steps necessary to address issues raised at CV Bethel following an altercation involving a student and teacher last week.
This is because the ministry, Mr Lloyd said, is awaiting a final report from the Royal Bahamas Police Force on the fight between a marine biology teacher and a male student.
Days after the incident, Bahamas Union of Teachers president Belinda Wilson told The Tribune it left some teachers traumatised with many having to attended doctors for anguish related issues.
Others, she said, were in meetings addressing safety concerns the fight had raised.
However, in the House of Assembly yesterday Mr Lloyd called this a labour withdrawal that did not observe the process for grievances outlined in the BUT's industrial agreement.
He said: "This minister and the ministry awaits the promised reports from the police so that whatever steps may be required could be taken to address whatever issues that there may be, that could be or that might be able to give rise to an unsafe school environment.
"Mr Speaker, this honourable House is informed that the formal relationship between the ministry and its teachers governed by the 2015 industrial agreement which is still enforced and that industrial agreement stipulates the process by which grievances should be handled – this labour withdrawal did not observe that process."
Responding, to this assertion, Mrs Wilson said teachers at CV Bethel Senior High School did not contravene their industrial agreement when they sat out for four days in protest of the altercation.
Mrs Wilson yesterday said teachers have continued to meet with administrators and other education officials at the school in the interim, as the two sides work to draft health, safety and discipline plans.
In a brief statement, Mrs Wilson said she took "grave exception" to Mr Lloyd providing the public with "incorrect information".
Mrs Wilson said teachers at CV Bethel have devised a plan according to their collective bargaining agreement, and are presently working along with the school's administration for the plan to be successful.
In line with this position, Mrs Wilson said aspects of the plan will ensure that rules, regulations, and policies are adhered to by the students.
"Teachers are rostered themselves in strategic places on the campus," Mrs Wilson said. "In fact, I implore the minister of education to cause his administrators to be truly evaluated to test their suitability for these positions.
"So many of the matters can be resolved in a more timely manner if they would focus on operating their schools efficiently and cease from trying to prevent the Bahamas Union of Teachers from representing our members," she added.
"We have filed two trade disputes in reference to CV Bethel and we have filed a trade dispute on behalf of teachers as it relates to new initiatives and policies implemented by the Ministry of Education."
These issues include district examinations and the national high school diploma, she said.