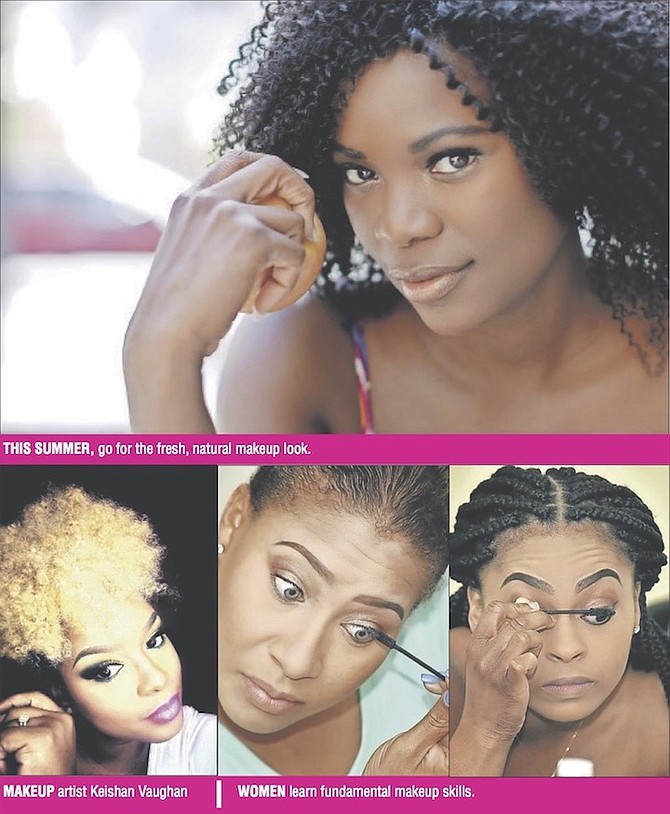 By ALESHA CADET
Tribune Features Reporter
acadet@tribunemedia.net
After years of heavy Instagram makeup being being the go-to look for women, a new trend is taking hold: the face, natural face look.
Runway and social media models, celebrities and cosmetic professionals are all going for luminous skin without looking too artificial. And here in the Bahamas, local makeup artist Keishan Vaughan's is offering her DIY Fresh Face workshop to teach women the fundamental skills in achieving the everyday, natural look that will immediately make them feel effortlessly beautiful. Instead of layers and layers of makeup, women will learn the importance of well-shaped brows and other essential tips.
"I have experienced first-hand the power of makeup and how it can change a life once applied correctly. I have also experienced the power of a well put-together woman. There is just something alluring and amazing about a woman who knows how to create her own magic at her own fingertips," Keishan told Tribune Woman.
Having perfected her craft for the past 15 years, Keishan feels it is only fitting to pass on what she knows to other women so they can become empowered to do the same.
The DIY Fresh Face workshop, held at The Meeting Lounge on Carib Road, provides beginner style instructions on how to create an everyday fresh faced makeup look. This includes skin care, brow grooming and shaping, foundation matching and application, eyeshadow application, powder application, highlight and contour application, blush and bronzer application, and eyeliner and lip colour applications using quality makeup brands such as L'Oréal Paris, Sasha Buttercup, LA Girl Cosmetics and Candy Face Cosmetics.
Keishan said the goal of DIY Fresh Face is to be an affordable and knowledge-compact resource for women of all ages around the Bahamas to gather in the same environment and be empowered together.
All course materials are included. Highlights include an aesthetician skincare talk, a mini photoshoot, giveaways, and appetisers served after the workshop, along with a chance to mix and mingle.
"I would like each woman passing through my class to learn how to achieve a fresh face, which is the most common makeup look, and be encouraged to practice and grow in their own personal and unique beauty journeys," said Keishan.
"I am a 35-year-old wife and mother of one who is a lover of God and beauty in all its forms. I am also a DIYer at heart. For as long as I've known myself I've had a passion for all things beautiful and that created a monster for myself, my family and my friends. I would always dream up DIY projects that were intricate and overwhelming and definitely would enlist their help. I consider myself a creative who has been blessed with a gift that makes it easy for me to find success in a great deal of creative ventures."
She remembers her frustration with booking makeup appointments for herself and in the end being unhappy with the results of the application. From this, Keishan said she had to become really good at doing her one makeup.
"The first aspect of my face that I perfected were my brows, which in my opinion are what really frame and balance out the face. I then found that people would regularly pay me compliments, specifically on my brows, and ask me to apply their makeup. My beauty career started after a great deal of soul-searching and stepping out on faith. I would sign up for a makeup courses with Eye Candy while employed in the tourism industry and this sparked a passion and a love for the art," she said.
After becoming certified in September of 2016, Keishan's makeup career took off.
"This industry is always evolving, which keeps your creative juices flowing and growing so you're never bored with makeup. I truly believe that makeup seeps into the soul and creates an immediate confidence that cannot be achieved by anything done by anyone anywhere. Makeup is magic and magic can happen for you everyday if you want it to," she said.
Readers can keep up-to-date with DIY Fresh Face via the Keishan Vaughan Makeup Artistry's Facebook page.