By NEIL HARTNELL
Tribune Business Editor
nhartnell@tribunemedia.net
The government has been urged to "speed up" its short-term transformation targets, a governance reformer suggesting current goals indicate "a slow climb out" for the economy.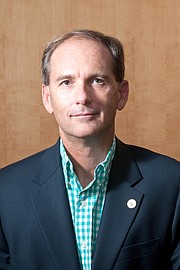 Robert Myers, pictured, the Organisation for Responsible Governance's (ORG) principal, told Tribune Business that the Minnis administration needed to aim higher than the targets set out in the Prime Minister's Delivery Unit's annual report to maintain economic competitiveness and living standards.
Arguing that GDP per capita and other key indicators were still "labouring", Mr Myers said the longer it took to achieve these goals "the longer it will take to get GDP growth" to where it needs to be and reduce the stubborn double-digit unemployment rate.
Dr Hubert Minnis's delivery unit is aiming to have just 17.5 percent of government services online and digitised from "end-to-end" by July 2021. While a significant rise on the 3.5 percent "baseline" established last year, this still means less than one-fifth of such services will be fully online in two years time.
The Government is also seemingly leaving itself a lot of work to do to hit the 2030 National Energy Policy target that 30 percent of all energy produced in this nation will come from renewable sources.
With just 0.22 percent of Bahamian energy produced by renewable sources in 2018, the Minnis administration is targeting 4.56 percent by 2021 - leaving the Government with significant ground to make up over the final nine years.
"I get it," Mr Myers told Tribune Business. "It takes time to do this stuff. It's the right direction, it's good to hear and I'm pleased to see it. We just need to stay on track and see if we can speed it up. I'd love to see those be 2020, not 2021. Think of the efficiency. The upside of that efficiency is two to three-fold.
"I would have thought it should be faster. Maybe they're over-promising and over-delivering. It would be nice to see this moving along faster, and one way to do that is to involve the private sector in some private-public partnerships (PPPs).
"The time is an aspect of how quickly we want the economy to recover and grow. If we're going to drag on efficiency, drag on using IT and lowering the cost of governance..... the longer you take to do that, the longer you will take to get GDP growth. That's the reality," Mr Myers continued.
"We have to get efficiency to get the ease of doing business moving, and we have to lower the cost of business to stimulate foreign and local investment. The longer that takes the slower GDP growth will be. If we can't move it faster than that, in essence you're telling me it's going to be a slow climb out."
Mr Myers reiterated that The Bahamas also needed to complete passage, and implementation, of a host of governance-related legislative reforms including the Freedom of Information Act and the Integrity Commission Bill.
He added that ORG, together with the likes of the International Monetary Fund (IMF) and Inter-American Development Bank (IDB), had long laid out a road map involving education and ease/cost of doing business reforms when it came to "moving the needle" to higher economic growth rates for The Bahamas.
"If the people don't want it to happen, the Government will not be motivated to make it happen," the ORG chief told Tribune Business. "It should be coming from the people to move it forward. If we don't do it we deserve everything we get.
"The critical thing is time is running out, and we're labouring. GDP per capita is labouring. It's not improving. That's not a good sign. Even though the economy is growing modestly, GDP per capita is not improving, which means there are more people and less productivity, and workers are not doing so well and the quality of life is not improving.
"The people need to put pressure on the Government to move faster to get more investment. Let's stop the politicking and ignorant politics and get on with creating opportunities for the people."
Mr Myers argued that, outside the tourism industry, there was insufficient focus on attracting investment - both local and foreign - to The Bahamas."