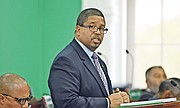 By MORGAN ADDERLEY
Tribune Staff Reporter
madderley@tribunemedia.net
DEPUTY Prime Minster K Peter Turnquest yesterday said maintaining and enforcing building codes is a key way the government is attempting to mitigate the effects of climate change.
Speaking on the sidelines of the CFAL Budget Pass held at the Baha Mar Convention Centre, Mr Turnquest also listed building sea walls and replanting mangroves as further efforts on the government's part.
When asked if enough is being done to prepare for the effects of climate change, Mr Turnquest noted this is a pressing matter for Prime Minister Dr Hubert Minnis. He also called for a partnership between countries to find a solution to this issue.
"This is a particular focus (of) the prime minister, it's coming up more and more in international conversations, in particular in this region and all small island states, to try and figure out how to combat this," he said.
"As you know this, we are affected mostly by this dramatic change but we are the least contributors to it. So it's really a partnership that needs to happen between the developing states and the small island states to find a solution.
"From the international community's point of view and the multilateral agencies', they're focused on resilience, building climate resilience into our infrastructure. Ensuring that as we move forward, that new construction meets the current technical standards that withstands the…more stronger storms we're seeing these days.
"For the Bahamas, we've always had a very resilient building code. We do have some infrastructure that is not up to that standard, having been built prior to (strict codes) and we have to see how we can enforce or harden those. But nonetheless the limited resources we have we're going to continue be vulnerable for some time yet to come."
Mr Turnquest also said climate change is a "long-term problem" and underscored the need to leverage relationships and funds to help prepare the country.
"On the part of the government itself, we are building seawalls we are replanting some of the soft defences: the mangroves and (those) kinds of things to try and cushion as much as we can the effects," the deputy prime minister continued. "But nonetheless it is a long-term problem that we recognise and that we are trying to be creative and to leverage our relationships and our participation in these international agencies to try and come up with sustainable solutions. And to leverage resources.
"Because again, there's only so much we can afford to do ourselves. Leveraging some of these resources from funds and other participants to help us to again build our hard infrastructure defences as well as our soft infrastructure to as best we can. But again the key is in ensuring that we maintain our building codes.
"There is some effort underway with the Ministry of Works as I understand it to improve the building codes and those are key to minimising the amount of damage that happens. Because we all know, it's not if, it's when."
In March, Iram Lewis, parliamentary secretary in the Ministry of Public Works, noted a large number of hurricane-damaged homes are built by construction companies that fail to comply with the country's building code.
He also revealed that much of the government's post-hurricane resources were being consumed by roof repairs to homes that were either not insured or under-insured.
Mr Turnquest also delivered the keynote address at yesterday's CFAL event, which furthered discussions on the national budget with stakeholders. He noted adding a budget conference to the annual calendar will make an "important difference' to public discourse.
He also noted the three major ways this budget is unique, saying it is the first to adhere to the legally mandated fiscal targets set by the Fiscal Responsibility Act of 2018, to fully adopted the new Chart of Accounts (COA) and "be compliant with internationally recognised government finance statistics standards, and the first that "required ministries to take a new approach to budget planning, highlighting our transition to programme budgeting in the public sector".
He noted the the deficit projected for this budget year will end up being the "lowest" the Bahamas has seen in 10 years, and "with its corresponding ratio marking the lowest deficit to GDP ratio this country has seen in almost two decades".