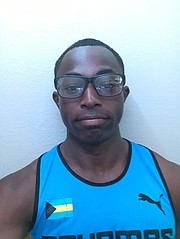 By BRENT STUBBS
Senior Sports Reporter
bstubbs@tribunemedia.net
THIS was a breakout year for sprinter Samson Colebrooke and nobody was more surprised by his accomplishments than his Bahamian coach Norbert Elliott at Purdue University.
Colebrooke's time of 10.01 seconds in a photo finish for the silver behind gold medallist and Purdue team-mate Waseem Williams and Barbados' Mario Burke surpassed the qualifying standards for the International Amateur Athletic Federation's World Championships, scheduled for September 27 to October 6.
During the NACAC under-18 and under-23 championships in Queretaro, Mexico, Colebrooke also snatched the 200m gold medal in a time of 20.58, which was shy of both the World Championships' time of 20.40 and the Olympics' standard of 20.24.
Before the meet was over and done with, Colebrooke found himself back on the podium with team-mates Tamar Greene, Holland Martin and Shakeem Hall-Smith, having raced to a silver medal in the 4 x 100m relay.
But after turning in one of the greatest individual performances, Elliott said as a result of the long, hectic season that Colebrooke has had to endure, he won't be making the trek to Doha, Qatar, nor is he expected home to participate in the Bahamas Association of Athletic Associations' National Championships July 26-28 in Grand Bahama.
Instead, he is back in West Lafayette, Indiana where he's concentrating on summer school and some much-needed rest.
The focus, according to Elliott, is preparing Colebrooke for the 2020 Summer Olympic Games in Tokyo, Japan, where his time in the century has surpassed the standard of 10.05 as well. "I was really surprised. Samson opened the season with a personal best and that was back in December. But it really takes someone with a lot of talent and a lot of competitiveness to be able to run the entire collegiate season and on top of that put the icing on the cake with a personal best in both the 100 and 200m," Elliott said.
"So to be honest with you, coaches shouldn't be kind of surprised. They should know what their kids are able to do, but rarely do you see someone run the entire collegiate season and finish with a personal best. That was really special. That goes to show the talent that Samson truly has."
Elliott, a Bahamian two-time Olympic triple jumper in 1988 and 1992, said they were really preparing Colebrooke to have his breakout season in 2020, but to be able to have it a year before only speaks volumes about his potential for the future.
"The pressure is off so he can now go out there and train and get through his last collegiate year next year and get a shot at running at the next level (on the professional circuit)," Elliott projected.
The 22-year-old Colebrooke, who is studying law and hopes to be a professional track and field athlete and Pastor, has improved tremendously all season long but will bypass the World Championships to be properly prepared for his senior year at Purdue.
"We're going to have a really good team and I don't want him to start too late because that could also interfere with his preparation at having a shot at making the Bahamas Olympic team," Elliott stated.
"He really needs some rest. If he goes through to October, that's already an entire year he would have been running. He opened his season in early December and if he goes all the way until October, that's just much running for an entire year. That's not good for the body. He needs some time to rest and recuperate."
Quite aware of the system in the Bahamas, Elliott refused to take all of the credit for Colebrooke's success so far but shared some of the spotlight on fellow Olympian Andrew Tynes, who coached Colebrooke, a native of Exuma when he attended Queen's College before he left the Bahamas to spend two seasons at Barton Community College in Great Bend, Kansas.
With a great training partner in Williams, who made the finals at the Jamaica National Championships last month in Kingston, Jamaica, Elliott said the sky is the limit for the sprinters at Purdue.
"With those guys pushing each other, I should have two guys going to the Olympic Games," Elliott stated. "Our programme has never won the Big Ten Conference title and Samson is going to play a huge role in us winning it next year because he will run the 100, 200 and he will be on our 4 x 100m relay team.
"So Samson is key to our team and he does a fantastic job. So once he's done with the Boilermakers, we're looking forward to him going to the Olympics and making his presence felt for the Bahamas next year."
Colebrooke, when contacted, said he was just as surprised as Elliott in his performance at NACAC.
"The time alone was not what I was expecting at all," he said. "Coming in, I and my team-mate just wanted to get through our workout so that we can see what we can do after a very long season.
"We both just wanted to make the finals and see what happens after that. So after running the heats together and we were right there, it showed that something special was going to happen in the final."
Even though it's about a week since his performance, Colebrooke said it still doesn't feel as if he's on the threshold of breaking the 10-second barrier, which would make him the second Bahamian to do so after national record holder Derrick Atkins set the pace at the 2007 IAAF World Championship with his silver medal.
"For me, it's unreal because I actually ran a 10.01. For some people, that's a 10-flat. So it's unrealistic for the moment, but for me, it's more to come," he proclaimed. "I don't want to think that I've arrived. Yes, it's one of the fastest times in the world, but is just the beginning. It's a process and there is more to come."
Having achieved one of his goals, which was to qualify for the Olympics, Colebrooke said he now wants to get into the final and eventually be in a position to compete for a shot at getting on the podium and win the first Olympic sprint medal for the Bahamas.
"I just want to show the world that the Bahamas is coming back into the sprints," he said. "We had one sprinter, who hit the nine-second bar, but because he was a mixed Jamaican-Bahamian.
"As a Bahamian, I want to be the first Bahamian born competitor to run that fast. That's why I'm cutting my season down now because I want to be able to run faster next year. I want to go from a 10.0 to running a 9-5 or 9-6. I want to put the Bahamas back on the map."
Not only did Atkins broke the 10-second barrier by winning the Bahamas' first sprint medal at the IAAF World Championships in Osaka, Japan, he also became the first double sprint medalist at the NACAC under-23 championship when he claimed the gold in the 100 and silver in the 200m in Santo Domingo, the Dominican Republic in 2006.
Having produced personal best times from the indoor to the outdoor season all year long, Colebrooke said he doesn't want to burn himself out from fatigue. So he's only to be cautious for his senior year at Purdue and then move into the professional ranks next year.
"Next year, looking at the performances this year, I feel I have the potential to get into the final," Colebrooke stressed. "My main goal is to continue to execute. My technique is not really where it should be, but imagine if I can get it right, I know I can do it.
"I feel that I am now setting myself up great for the Olympics next year. It will be August and I basically ran my personal best close to that time this year. So imagine when I get stronger with my reps on my body and get even more mentally prepared, I don't think there's anything that could stop me. So I feel very confident going into next year."
It also has him ranked in an eight-man tie for 16th overall in the 100m on the 100m, led by American Christian Coleman with a 9.81. As the 200m he is pegged with American Trentavis Friday for 62nd on the list that is led by American Noah Lyles at 19.50 and includes Bahamian Steven Gardiner in a two-way tie for 12th at 20.04.
When asked which of the event he prefers to compete in, Colebrooke pointed out that "he loves the 100m, but the 200m is his baby." Right now, he's qualified for the Olympics in the straightaway race, but he wouldn't mind adding the half-lap race to his ledger.
"If I can do the double, I wouldn't mind doing it. If I just do one, I would do one," he said. "But mainly, I just want to get to the Olympics and compete next year. The 200m is my race. I just live it, but I don't mind if I get to compete in the two events."
With Williams as his training partner, Colebrooke said he finds himself in the ideal situation in the Boilermakers' athletic programme, headed by coach Elliott.
"Not many places do you get two athletes going head to head," he stated. "When it's like that, athletes like to switch schools because they want to be the top athlete and get to compete by themselves.
"But when you have q competitor like Waseem Williams, it makes you not to be prideful, but he can help me and I can help him. We can teach each other things that we need to work on. I need to work on my turnovers and he needs to work on his start. So we can help each other to be the best, not just at Purdue and on the world stage."
Colebrooke feels that rivalry and comradery that they enjoy as Boilermakers will definitely help him as he prepares to compete on the international scene as a professional athlete when he will have to head-to-head to more competitive athletes in the future.
As a former student of LN Coakley in Exuma from grade 7-10, Colebrooke came to New Providence and attended Government High for one year before he moved to Queen's College where he graduated in 2016.
He encouraged the athletes to develop their mindset, not to give up on their dream or their passion because "we all have stumbling blocks and hurdles in our lives that we have to get over.
"If you don't attack it, you will never know how to get over it. So if the coaches continue to develop the athletes in the Bahamas, despite their speed or how they perform, the time will come when they can get over their hurdles. They just need that push and drive to help them."
Colebrooke thanked his parents, Modesta and Shenique Colebrooke, and all of his coaches, including Andrew Tynes and Everette Fraser, for helping to push him to get over his hurdles and allowing him to press forward under coach Elliott.