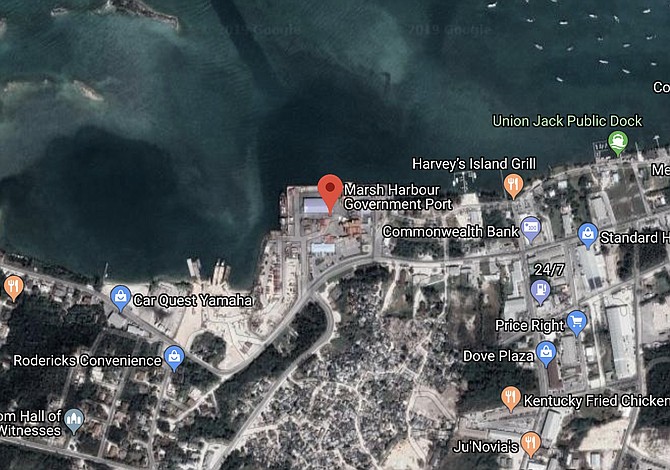 By NEIL HARTNELL
Tribune Business Editor
nhartnell@tribunemedia.net
Abaco's main shipping port faces a 'make or break' inspection tomorrow that could result in its closure and derail the island's economy by halting virtually all cargo trade with the US.
Tribune Business can reveal that this blunt warning was delivered by US Coast Guard officials after the Government-owned and managed Marsh Harbour port failed its International Ship and Port Security (ISPS) "mock" inspection on June 18, 2019.
Captain Troy Mills, the Abaco port administrator, in a "call to action" wrote that Marsh Harbour will be "closed down unless there are some major improvements" made in time for Wednesday's follow-up inspection by US and ISPS code overseers.
His letter, which has been obtained by Tribune Business, said: "On June 18, 2019, the ISPS coordinators for the Caribbean along with Lieutenant Commander Justin Matejka of the US coast guard performed a mock inspection of the port facility that resulted in the discovery of a breach in compliance" of both the ISPS code and International Maritime Organisation (IMO) policies.
"As a result of the findings of June 18, 2019, ISPS and US coast guard officers have warned that unless there are some major improvements before the next inspection that is to take place on July 17, 2019, the port of Marsh Harbour will be closed down and ships transporting cargo between Florida and Marsh Harbour would have to discontinue their services," Captain Mills warned.
Such an outcome would likely send Abaco's economy into a tailspin if it were to occur, given that the island - much like the rest of The Bahamas - imports most of what it consumes. With its main port of entry closed, cargo freight would likely have to be sent first to Nassau before being transferred to smaller vessels such as mail boats for onward shipping to Abaco.
This would result in tremendous cost and shipping time increases, with the extra expense passed on to both Abaco businesses and consumers in the absence of direct deliveries, thus undermining one of the most buoyant island economies in The Bahamas.
There is also currently no immediate alternative to Marsh Harbour as a main port of entry with the status of the $40m north Abaco port constructed by China Harbour and Engineering Company (CHEC) uncertain.
The ISPS is a worldwide protocol that was implemented in the wake of the September 11 terror attacks. Designed to prevent a repeat of such atrocities, it mandated that every country upgrade security infrastructure and procedures around its major shipping ports and the vessels that use them.
Non-compliance with the code raises an immediate "red flag" that threatens loss of both commercial shipping traffic as well as other forms of business, such as cruise ships, for ports that fall into this category.
One shipping industry veteran, speaking on condition of anonymity, confirmed that the loss of ISPS status would be a blow resulting in increased shipping costs, delays and supply chain inefficiency.
"I'd heard that Marsh Harbour had failed its ISPS inspection. That creates a whole lot of problems for foreign carriers departing your port back to the US. There is an increase in security protocols if you have left a port that is not ISPS certified," they said.
"The US coastguard and US ports will be on notice, and the US port will increase its protocols around that arriving vessel. It creates a lot of expense. It introduces inefficiency to the supply chain, impacts exports and imports in terms of the speed at which cargo is moving, and doesn't help the local economy. If a port fails its inspection, it's going to impact trade."
The shipping industry executive added that US coast guard officials often worked alongside the Government's Port Department, which is The Bahamas' ISPS coordinator, to ensure that local ports of entry were in compliance with the worldwide standard.
"ISPS certification is certainly something not to be taken lightly," they said. "It happens when people get lazy, and when funding is not available to support an ISPS focus, such as the fixing of fences, lighting and manpower."
Abaconians yesterday expressed mixed views on whether Marsh Harbour is ready to pass Wednesday's inspection following an intensive effort by the private sector and local government officials, together with Captain Mills and his staff, to address the weaknesses identified one month ago
Ken Hutton, the Abaco Chamber of Commerce's president, told Tribune Business that there was "no chance of losing ISPS certification" based on the work stakeholders had put in.
While acknowledging the "detrimental" impact to the Abaco economy and the cost of living if the Marsh Harbour port was to again fail, Mr Hutton said the deficiencies included "nothing fatal" and had been greater in number than severity.
"Loss of ISPS certification would definitely cause problems here," he added. "We are, and remain, very concerned. It would definitely have a detrimental effect on economic activity here, and certainly have an effect on the cost of living.
Then, striking a more positive tone, Mr Hutton added: "In terms of the inspection on the 17th, there was a punch list of items to fix, and it's looking pretty good. Pretty well all the issues have been addressed, and I don't think there will be any problem with the final inspection.
"There were a number of items that had to be fixed and nothing fatal. It was the sheer scale of items to be addressed, and they've done a tremendous job dealing with them. I don't think there's any chance of a loss of ISPS certification.
"I've been in the shipping business before, and there is nothing onerous outstanding that would cause them to lose it... I think the port is going to be fine."
However, Mr Hutton's optimism was not shared to the same extent by Roscoe Thompson, chairman of the Marsh Harbour/Spring City town council, who suggested the outcome of Wednesday's inspection is a much closer call.
He told Tribune Business that the upgrades made by the private sector and local government had given the port a fighting "chance" of at least winning an "extension" and remaining open, as he blamed the threat to Marsh Harbour's ISPS status on inaction by successive PLP and FNM administrations even though they knew of the looming problem.
Mr Thompson argued that an inspection conducted two years ago around the time of the general election had flagged up numerous failings related to security, lighting and fire alarms, yet repairs had again been left until the last minute.
He said many Abaconians were "annoyed" that local government and the private sector had been forced to "bail-out" the central government by financing, and overseeing, critical repairs to the Marsh Harbour port.
Mr Thompson said the Marsh Harbour/Spring City council had arranged for locksmiths, lighting and CCTV specialists to examine why these systems were not working in the month since the June 18 inspection, while the Abaco-based Port Department had sought and obtained quotes for the repair work.
"All the major shipping companies, organisations and brokers had to come together to spend money out of their own pocket to clean the port up and make it presentable for inspection on Wednesday," he told Tribune Business.
"Everybody that had something to with the port, bringing freight.. Fast Ferries committed to fixing part of the fence. If it was not for the business owners, shipping companies and local government that port would probably be shut down on Wednesday. Now at least we have a change to get an extension.
"I don't understand how you let a port in any island get to the state where it does not meet an inspection in three years. I still don't think all the criteria have been met. The CCTV system is down, the alarm is inoperable. None of the inefficiencies have been fixed. They wait until the last week."
Mr Thompson said Renward Wells, minister of transport and local government, who has portfolio responsibility for the Marsh Harbour port had "dropped the ball on this". He said the same applied to Abaco's two MPs, Darren Henfield, minister of foreign affairs, and James Albury, parliamentary secretary in the Prime Minister's Office, who he had informed of the looming crisis when they took office two years ago.
Mr Thompson said neither Mr Wells nor Mr Henfield had replied to his recent messages, although a response was obtained from Mr Albury. The latter told Tribune Business he was unable "to speak on the phone at this moment" and would have to call back. No reply was received before press time.