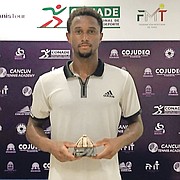 By BRENT STUBBS
Senior Sports Reporter
bstubbs@tribunemedia.net
One week after winning his first International Tennis Federation men's doubles title with Jody Maginley from Antigua & Barbuda, Bahamian Justin Roberts celebrated another major feather in his cap by capturing his first singles championship crown.
Competing in his fourth series of M15 Cancun Tennis Tournaments in Cancun, Mexico, Roberts and Maginley got eliminated in the first round of the men's doubles main draw play, losing identical scores of 6-4, 6-4 to American Felix Corwin and Davis Fox of Great Britain. That enabled Roberts to concentrate on the singles where he advanced to the final, pulling off a 3-6, 7-6 (8), 6-4 victory over American Kalman Boyd on Sunday afternoon to continue his celebrations in Mexico.
"It feels good. It feels good. Two years ago I was out of tennis because of an injury to my wrist, but I got back into it. I was training hard and I put a lot of work into it, so it feels good for me and for my father (Bruno Roberts) and my family," said Roberts as he prepares to come home today for a short break.
"This means a lot to me. It's a step towards our dream, so it's a great feeling. I have nothing but happiness, gratitude, joy, whatever. That's what I am feeling right now. I'm going to enjoy this moment and look forward to more in the future."
In winning his first ITF Future's title of the year, Roberts improved to a seven-match win streak and he recorded his third comeback victory after losing the first set. He did it by getting in 71 per cent of his first serves, had 11 east serve holds for 92 per cent and saved one match point in the second set.
In the process, Roberts also snapped Boyd's six-match win streak.
Roberts, who had to secure two matches in one day in the qualifying round to earn his berth in the main draw, clinched a stunning 3-6, 7-6 (5), 6-4 triumph over number one seed Jack Draper from Great Britain, who was ranked in the top 500 on the ATP tour.
"I want to play on the professional men's tennis circuit, so I have to start at the lower ranks and winning these types of tournaments can only help me to go further," said Roberts, who joined Mark Knowles, Roger Smith, Mark Merklein, Bjorn Munroe and Marvin Rolle in an elite group of Bahamians to have ever won a singles or doubles title at the professional level.
"It's just one step in the journey. I'm looking forward to going on. This is just one step of the dream of me being one of the elite tennis players in the world." After easily disposing of Canadian Riaan Du Toit 6-1, 6-2, Roberts had two more dramatic appearances to get to the semi-finals.
In the second round, Roberts prevailed over American Gage Brymer, the No.7 seed, 7-6 (5), 6-7 (4), 6-3. Then in the quarter-final, Roberts got by Corwin, the No.3 seed in singles, 7-6 (3), 2-6, 6-3.
Roberts and Maginley, long-time travelling partners from their junior days, reunited in the M15 Cancun series at the end of June and won their first international doubles title last week over the American pair of Eric Hadigian and Tanner K Smith in their third M15 series in Mexico.
The 23-year-old Roberts is now preparing to head to Lima, Peru, where he will be representing the Bahamas at the XVIII Pan American Games next week in Lima, Peru.
Roberts was named to the Bahamas Lawn Tennis Association's team along with Baker Newman. They will be coached by Derron Donaldson, the secretary general of the Bahamas Olympic Committee.
"This win can't hurt, but I start playing on Monday so I will see how it goes," said Roberts, who will depart with the team on Wednesday. "This is a confidence booster after winning doubles last week and singles this week. So it can't hurt. It can only help me."
The Pan Am Games are slated to run from July 26 to August 11 and the Bahamas will not only be represented in tennis, but also athletics (track and field), swimming and judo.
The BLTA congratulated Roberts on another amazing comeback victory and for staying focused to capture his first ever singles ITF Pro Circuit win.
"Justin has performed consistently and continues to raise the bar as he achieves new tennis feats," the BLTA said in a press release. "Last week's doubles ITF pro circuit win coupled with two quarter-final singles appearances over the last month has fuelled Justin.
"We are extremely proud of Justin and his tennis works so far and know that there will be many more tennis accomplishments in the future. Great accomplishment Justin. Continue to shine brightly."