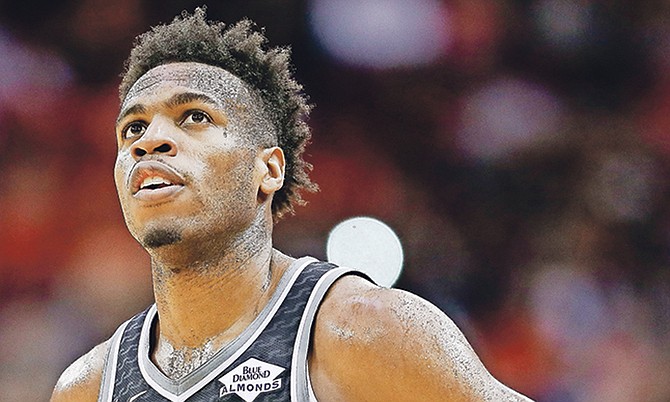 By BRENT STUBBS
Senior Sports Reporter
bstubbs@tribunemedia.net
WITH so much wheeling and dealing that went down during the free agency period in the National Basketball Association, shooting guard Chavano 'Buddy' Hield likes the make up of the Sacramento Kings as they prepare for the 2019/20 regular season.
"Game on," was how Hield summed up all of the transactions that took place this summer around the league. "Let's go. Let's play. Let's see what everybody is all about with all of the changes."
Among the significant deals that went down over the summer, NBA championship MVP Kawhi Leonard left Toronto and signed with the Los Angeles Clippers and will be joined by forward Paul George from Oklahoma and the Houston Rockets got guard Russell Westbrook from Oklahoma in a swipe for guard Chris Paul as Westbrook reunites in the backcourt with guard James Harden.
Los Angeles Lakers acquired centre Anthony Davis from New Orleans to join forward LeBron James and the Brooklyn Nets secured the services of injured small forward Kevin Durant from Golden State, point guard Kyrie Irving from Boston and centre DeAndre Jordan from New York via Dallas.
The Kings didn't have any earth-shaking moves, except to pick up point guard Cory Joseph from the Indiana Pacers and forward Tyler Lydon from the Denver Nuggets. They will join the Kings roster that includes point guard De'Aaron Fox, power forward Marvin Bagley III, shooting guard Trevor Ariza and Bogdan Bogdanovic, another shooting guard.
"I know we are going to compete. We're going to work hard," Hield pointed out. "That's what competition is all about. We have all got to go out there and put the work in. Once we put the work in, we will be okay."
Last year, Sacramento just missed making the western conference playoffs, finishing in ninth place with a 39-43 win-loss record, while closing out the regular season on a three-game losing streak.
The Los Angeles Clippers beat out of the Kings for the eighth and final spot with a 48-34 record. Sacramento, however, sat ahead of the Los Angeles Lakers, who ended up in 10th place with a 37-45 record.
"I like my team. Our focus is in a new direction. We won 39 games, now we need to try and win 45-48 games and get into the playoff race," he said. "It's going to be fun this year. We will see how it goes."
The 26-year-old Hield came off the bench and averaged 26.8 minutes per game. He shot 44.6 per cent from the field goal, 41.9 per cent from the three-point line and 87.4 from the free-throw line for an average of 14.9 points per game.
At 6-feet, 4-inches and 214 pounds, Hield also averaged four rebounds per game, two assists per game and 0.3 block shots per game.
"I'm never satisfied. I know I can be better. So I want to keep on improving and getting better," he said. "The biggest thing for me is to stay humble. There are only about 400 of us playing in the NBA, so it's hard.
"You just have to go out there and compete to the best of your ability every day that you step out there on the court."
The Grand Bahamian native, born to Jackie Swann and Vincent Hield, was selected by the New Orleans Pelicans in the first round with the sixth pick overall in the 2016 NBA draft.
But by February 20, he was traded to Sacramento along with Tyreke Evans, Langston Galloway, a 2017 first-round pick (10th overall) and a 2017 second-round pick for DeMarcus Cousins and Omri Casspi.
While he got off to a slow start under coach Alvin Gentry, Hield seemed to have found his niche under coach Dave Joerger before he was fired and replaced by former Los Angeles Lakers' coach Luke Walton.
It doesn't matter to Hield who is at the coaching helm. Going into his fourth season in the NBA, he pointed out that he has to be ready to perform night in and night out or he could be on the trading blocks before he knows what happened.
"It's a business," he summed up. "We have a coach to play for, but we also have to play to prove ourselves worthy to be on the team. You can't worry about who is coaching because any day you or the coach could be traded or fired."
In the meantime, Hield, who is coming into his own as a three-point specialist, is looking to secure a long-term deal that will also increase his pay cheque. He is currently on a four-year contract of $15,887,648 with the Kings.