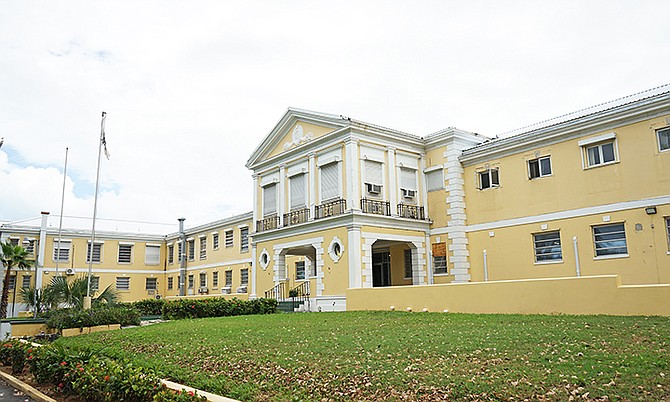 By Ricardo Wells
Tribune Staff Reporter
rwells@tribunemedia.net
HEALTH Minister Dr Duane Sands yesterday cheered several recent upgrades to Princess Margaret Hospital's Dialysis Unit, calling the improvements pieces in improving the nation's overall health sector.
Dr Sands, in comments to reporters outside of Cabinet yesterday, said officials attached to the unit recognised operations there had not been "ideal" for quite some time.
He said a determination was made to take a number of incremental steps to improve the unit over a period of time.
"Well, we are trying to do a little bit each day," he said, insisting the effort is predicated on making things "better for the patients."
Dr Sands added: "And so, it has had a bit of facelift; there are all brand new chairs, we are about to get brand new machines and when we are prepared to put them into commission we will invite you to join us for that celebratory event. And this is all as we get ready to move the Dialysis Unit to a brand new site. So, we have heard the concerns. We recognise that the unit has not been ideal. And one day at a time, one piece at a time, we are trying to make the health system better for our patients."
Last September Dr Sands described PMH as grappling with an ongoing "crisis" in its dialysis unit.
"Dialysis has been a huge challenge for more than 10 years," he explained at the time. "We have a dialysis unit at (PMH) that was designed for 125 patients."
The hospital caters to nearly 200 people who need renal therapy, he said.
Yesterday, Dr Sands suggested the number had fallen in recent months to 163, as he revealed that officials were comfortable with the current patient to nurse ratio within the unit.
"As of today, we have 163, I believe, dialysis patients and we have more than enough dialysis nurses for the time being.
"But, yes, we are trying to not only recruit, but retain specialty nurses across the system. So compared to the challenge that we had a few months ago, today, the 11 of June 2019, at least in dialysis, things are going pretty well," Dr Sands said.
According to an internal memo leaked last year, dialysis treatment has been a huge challenge for more than 10 years at PMH.
As of last year, the public dialysis service provided renal replacement therapy to almost 600 patients — with roughly some 400 being divided among private dialysis units in New Providence, Grand Bahama and Abaco.
The memo also highlighted a lack of nurses in the unit and called for a weekly charge rate of $150 for transport to and from the dialysis unit three times a week.
A 25-year-old man died in December after it was claimed he was turned away from the unit days earlier because of a staff shortage.
The hospital later revealed that he was "non-compliant" with his treatment schedule up to the time of his death.