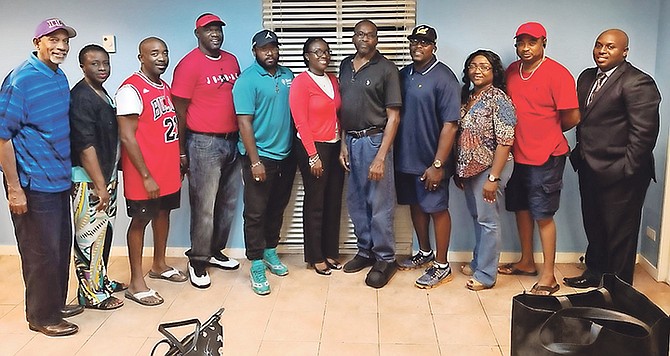 By BRENT STUBBS
Senior Sports Reporter
bstubbs@tribunemedia.net
AFTER the third try on Wednesday night, James Price was finally elected as the new president of the New Providence Basketball Association. He won 6-5 over Ricardo Smith.
Price will replace Eugene Horton, who didn't seek another term as president after he was recently elected as the first vice president of the Bahamas Basketball Federation.
The elections were originally scheduled for May 25 during the annual general meeting at the Ministry of Education, Science, and Technology, but was postponed because of a lack of quorum.
During the new election proceedings, the voting delegates had to vote three times to break a 6-6 tie. On the final voting procedure, one of the persons (voting) decided to leave. The other (voting) delegate didn't show up.
"I wasn't in the chair, but I was doing the work of the chair, so I know how it feels. It ain't nothing new," Price said. "It's just that we have to get to work and show people. Don't tell them. Show them where NPBA needs to be. I was surprised at the final results because I expected to have an 8-5 decision with the 13 votes. But it's the people's choice. I just thank God that it finally came out the way I expected it to come out."
Price's executive board will comprise of all members of his 'Team Next Level' that includes first vice president Kevin 'KJ' Johnson, second vice president Donnie Culmer, third vice president Kevin 'Island' McPhee, fourth vice president Ryan 'Rat' Turnquest, secretary Rhondia Johnson, treasurer Sophia Hunter, assistant treasurer Perry Thompson, commissioner Anthony 'Cops' Rolle, assistant commissioner Terrance 'Red Eye' McSweeney and public relations officer Moses Johnson.
All of the above officers, with the exception of Moses Johnson, ran and won over the candidates that ran on Smith's slate. Johnson's position was eventually unopposed as Marcellus Hall withdrew his nomination.
"We have to move forward and make the NPBA a more friendly place to be," Price said. "We had problems between the referees and players and coaches. That's the first thing on the agenda.
"We have to fix that and get a development programme back in place for the mini and supermini basketball. That's first on our agenda. We have some other things on our agenda, but we have to get the development programme up and running first."
Price, who relinquished his coaching duties with the Shockers basketball club to pursue the post executive position, said he will meet with his officers next week and they will assign the chores for each one of them as they chart the way forward.
"We have some goals in place," said Price, a self-employed businessman. "Each one of them will take time. We have goals for the fans. We are trying to put season tickets in place so we can make it inexpensive for them to come out.
"We need the fans, we need the referees and we need the players in order for us to have a successful league. So we will be looking at all of them as we try to take the sport back to where it was in the past."
Price served as first vice president for the past three terms, two under Keith 'Belzee' Smith and the last under Horton. He and his executives will serve for the next four years.