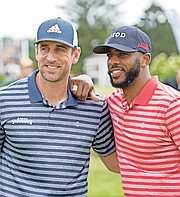 SOME of the biggest names in professional basketball and American football will tee off against each other during The Baha Mar Showdown, the second annual celebrity golf showcase created by Turner Sports and CAA Sports.
The two-day competitive celebrity event is scheduled for June 27-29 at Baha Mar, the newest resort destination in The Bahamas.
Hosted by sports icons Chris Paul and Aaron Rodgers, the tournament will feature eight NBA stars competing against eight NFL stars in match play at Royal Blue Golf Club, the 18-hole Jack Nicklaus Signature Golf Course at Baha Mar.
Donations will be made to each player's foundation or charity of choice.
The second day of the event will feature a special 18-hole, eight-player match final, with Paul and Rodgers leading their respective teams of four to decide the winner of the Baha Mar Showdown.
Bleacher Report will offer multi-platform coverage of the match-up, providing extended access to all of the fairway action and sideshow antics throughout the weekend, sharing top moments and highlights across its digital and social platforms. Additional distribution partners for the event will be announced at a later date.
"The NFL side squeaked one out last year. I look forward to defending our title bragging rights on the links," said Aaron Rodgers. "I love golf, and The Bahamas is a stunning setting for this unique event. It will be a special one for fans too, getting up-close-and-personal with some amazing pro athletes."
"I'm thrilled to be hosting this great tournament once again, matching some of the best that ever played in the NBA against NFL greats in a friendly golf competition," said Chris Paul.
"While we are all highly competitive at heart, this is all about having fun and giving fans an amazing experience."
"We are thrilled to welcome players and golf fans to Baha Mar, one of the most spectacular resort destinations in the world," said Graeme Davis, president of Baha Mar.
"The natural beauty, warm hospitality and vibrant energy of The Bahamas shines throughout Baha Mar – and we look forward to introducing this one-of-a-kind experience to guests and those tuning in from all over the world for The Baha Mar Showdown."
The newly-opened resort destination of Baha Mar is serving as the event host and title sponsor.
Home to three iconic hotel brands, Rosewood, SLS and Grand Hyatt, Baha Mar also includes the largest, most spectacular casino in the Caribbean, world-class golf and tennis, flagship ESPA spa, a nature sanctuary, more than 40 dining and nightlife venues, and two miles of white sand beaches overlooking turquoise blue Bahamian waters.