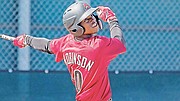 By RENALDO DORSETT
Tribune Sports Reporter
rdorsett@tribunemedia.net
AN active night for Bahamian minor league baseball players featured three prospects hitting their first home runs of the season and another in his second start on the mound.
Kristian Robinson, Trent Deveaux and Keithron Moss all homered Tuesday night in their respective leagues.
Robinson, the No.5 ranked prospect for the Arizona Diamondbacks, helped lead his Hillsboro Hops to a 7-0 win over the Salem-Keizer Volcanoes --- and alone into first place in the South Division of the Northwest League at 8-4. He finished with two-RBI and scored one run.
In his first Single A season, Robinson has made an immediate impression on the Hops lineup.
Through 11 games, Robinson is hitting .341 with 15 hits, four doubles, scored five runs, 10 RBI, four stolen bases an OBP of .420, OPS of .920, and slugging .500.
In the Arizona Rookie League, Deveaux had a successful day at the plate but his AZL Angels suffered a 15-5 loss to the AZL Padres 2.
Deveaux led off with his home run in the bottom half of the fourth inning, but the Angels were unable to keep pace with the Padres' offensive outburst stemming from their six runs in the first inning. Deveaux went 2-5, scored two runs with his solo home run and RBI. He got the season off to a quick start when he went 3-5 with one RBI and scored one run in the 8-4 loss to AZL Giants Orange. Through 11 games, Deveaux is hitting .333 with 10 hits, three RBI and a .994 OPS.
Deveaux is listed as No. 15 on the Angels' list of top 30 prospects and was voted one of the fastest players in all of the minor leagues by Baseball America.
The 19-year-old outfielder appeared in 44 games in the Arizona Rookie League last year and hit .199 with a .309 OBP, .556 OPS with 11 RBI, 20 runs scored, seven stolen bases and one home run.
Moss is in his first season of the Arizona Rookie League after spending last season in the Dominican Summer League. He recorded hits in three of his first four games this season in his progression to the AZL, including his two-run home run in the Rangers' 10-5 loss to the AZL Cubs.
After the Cubs took a 4-0 lead in the first, Moss hit a two-run homer with one on and one out in the second to bring his team within two runs.
Through four games he is hitting .214 with three RBI and scored three runs with a .741 OPS.
Moss, the 17-year-old infielder, appeared in 51 games last year and hit .196 with 11 doubles, 23 RBI, 29 runs scored and eight stolen bases.
Tahnaj Thomas got his second start with the Bristol Pirates in the Appalachian League. He fell to 0-2 on the season after allowing three runs on three hits and three walks while striking out one over 1 1/3 innings in the Pirates' 6-5 loss to the Twins.
Thomas is currently the No.16 ranked player in the Pittsburgh Pirates organisation and No.5 among pitchers, according to MLB Pipeline.