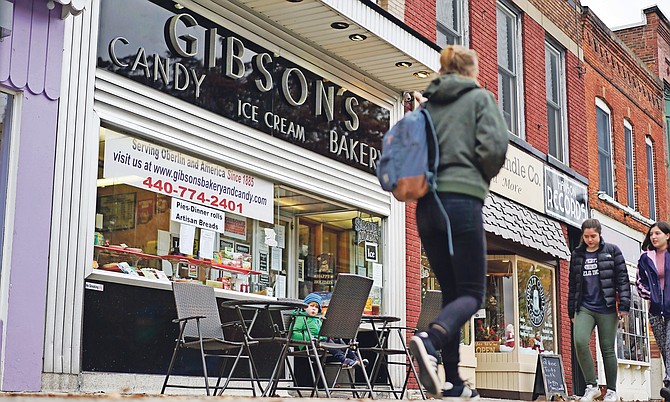 With Charlie Harper
Oberlin College is one of the most liberal institutions of higher learning in the United States. It has a rich tradition of historical tolerance of race and openness to women. The college, located in a leafy small town around 35 miles southwest of Cleveland, Ohio, is the oldest coeducational liberal arts college in the US, and second oldest in the world.
Founded in 1833 by utopian abolitionists steadfastly opposed to slavery, the college adopted a policy two years later to admit students without regard to race. Black students have thus been welcomed at Oberlin for 184 years.
The school, with 2,800 students and boasting perhaps the finest music conservatory programme in the US, has evolved over the years into almost a caricature of an academic hotbed of liberalism.
All of this makes the events of November 2016 and since all the more astonishing. No one familiar with the school or its reputation can believe any of this happened.
But it did.
Three black Oberlin students were arrested 31 months ago after one of them used a fake ID and stole merchandise from Gibson's, a family-owned bakery and store catering for decades to townspeople and students from the college. The white son of the owner chased the students out of the store, fought with them and had the students arrested.
The campus and the town erupted. Students strongly protested, believing young Gibson's actions to be racially motivated. Oberlin's vice president and Dean of Students Meredith Raimondo was present at several protest rallies and was accused of handing out inflammatory flyers and using a bullhorn to incite the protesters.
The college twice suspended doing business with Gibson's, which put the future of the business in question. Attempts were made to broker a settlement between the college and the bakery. The three black students pled guilty to a misdemeanour charge in August 2017 and acknowledged the younger Gibson's actions were not racist. No settlement was reached, however, and as a result, Gibson's sued Oberlin in November 2017.
A jury this month awarded Gibson's $33 million in punitive damages and another $11 million in actual damages. The trial was one of the longest in the history of Lorain County, where the school and the store are located.
Presumably the awards will be reduced on appeal. But the damage to Oberlin's stellar reputation may be hard to overcome.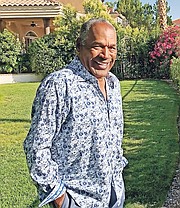 Sport's sorry tale of fame and infamy
Two recent unrelated developments involving American sports heroes offer a new cautionary tale of the occasionally tragic coincidence of fame and infamy.
The first involves O J Simpson, now approaching his 72nd birthday. OJ, who was released from a Nevada prison recently after a nine-year stretch on robbery and kidnapping charges, is a Hall of Fame running back with the University of Southern California and the Buffalo Bills who was acquitted of murdering his wife and her friend almost exactly 25 years ago. The Los Angeles trial of Simpson held Americans in suspense as it ultimately turned on whether a bloody glove fitted his large hand.
The trial and verdict were especially significant for African Americans who, notwithstanding OJ's real guilt or innocence, saw the proceedings as evidence, at last, that a black man could manage to beat the legal system as whites with wealth had done for many generations.
Simpson was in the news since his prison release with some ominous-sounding tweets that he had "some paying back to do". The family of the woman he was accused of killing hit back with news conferences and some wondered if the whole sordid scene would be repeated a generation later. The furore on both sides seems to have diminished, but another difficult story is replacing it.
While O.J. grew up in poor conditions in Northern California, Kellen Winslow Jr lived a privileged life as the son of Hall of Fame tight end Kellen Sr in Southern California. Winslow Jr, who is now 35, was convicted recently of the rape of a 59-year-old woman and will be held in jail pending retrial on eight other charges including rapes of other women, rape of an unconscious woman and abuse and assault of an elderly person.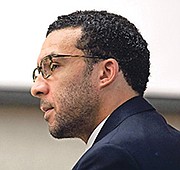 Junior was the sixth overall pick in the 2004 NFL draft by the Cleveland Browns, who still rue the choice, since Steelers Hall of Fame to be quarterback Ben Rothlisberger, a lifelong Browns fan, was available to them with that selection. Winslow's pro career never really lived up to his high draft status. But it is the dark side of his personality that has led reporters down a sensational and highly salacious path.
If Winslow, pictured left, is convicted only of the one rape offence, he faces nine years in jail – the same time Simpson served. If a future jury convicts him on all of the other charges, he could be imprisoned for the rest of his life.
Sports analysts will defend football and the NFL with the abundant evidence of good deeds and staunch community outreach by its players. But, 25 years apart, the cases of two star players reveal how close are fame and infamy in big-time American sports.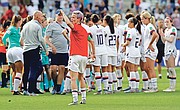 Tough French test for US women's team
There's a World Cup soccer tournament going on at the moment. Has anyone noticed?
The question arises because it's the Women's World Cup, presently in the knockout stages at various venues in France. The French men's team won the World Cup last year in Moscow.
Such is the state of women's soccer in comparison with the men's game that the favoured American women's team has filed suit in the US seeking equal pay and benefits with their male counterparts. (US soccer and the women have agreed to go to arbitration, partly to avoid distractions this summer.) The women's game isn't in much better shape in Europe and observers have long bemoaned the status of the women's game in South America.
Title IX to the US code 47 years ago mandated equal access for men and women to sports and all other activities at American schools and universities that receive federal funding assistance, and the resulting rise in women's sports like soccer, basketball and softball has been striking. But the professional ranks have proven difficult in the search for pay and other benefits equivalent to what the men receive.
Meanwhile, on the fields of France, the American women have been moving methodically through the early tournament rounds, yielding just one goal in four matches so far. Their path gets rougher from here, as the host French women lie in wait in Paris tomorrow, hoping to give France the reigning men's and women's championships. The French knocked off Brazil on Sunday and will be a tough nut to crack. Germany and England are potential future opponents for the American team should they dispatch the French tomorrow.
D-Days for the Democrats
Last night was the first of two widely-anticipated debates featuring ten of the two dozen Democrats jostling for the right to their party's nomination as Donald Trump's opponent next year. Tonight will be the second debate, featuring another ten contestants. The missing four were excluded on the basis of weak poll and financing progress in the campaign so far.
Last night's line-up was widely regarded as the one less likely to include the eventual nominee. The most prominent of those who appeared were Senators Cory Booker of New Jersey, Amy Klobuchar of Minnesota and Elizabeth Warren of Massachusetts, along with former Rep. Beto O'Rourke of Texas and New York mayor Bill de Blasio.
Tonight's debate features front-running former senator and vice president Joe Biden, Senators Bernie Sanders of Vermont, Kamala Harris of California and Kirsten Gillibrand of New York, and South Bend, Indiana mayor Pete Buttigieg. Everyone is hoping for a special breakthrough moment that will distinguish them from everyone else. Will anyone catch lightning in a bottle?
The debates, which are being held in Miami, start at 9.0 each night. If you don't want to stay up and watch or forget to tune in, The Tribune will have a special report on both debates in Monday's paper.