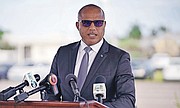 By RIEL MAJOR
THE government has launched a 24-hour human trafficking hotline to help victims or those who aware of the crime to anonymously report it.
Minister of National Security Marvin Dames announced the hotline yesterday, which is the first of its kind in the country and will be used solely to investigate trafficking in persons (TIP) matters.
Mr Dames said: "This dedicated hotline will allow victims and those who suspect a friend or loved one is being trafficked to anonymously report the crime.
"The government of The Bahamas takes a victim-centred and human rights based approach to human trafficking and the introduction of the TIP hotline punctuates the government of The Bahamas' commitment to combatting trafficking in this country.
"It is the intent of the TIP hotline to aid in accelerating the response time by authorities to victims of trafficking, and thereby provide victims of trafficking and another lifeline to secure assistance."
The minister said human trafficking is commonly referred to as a form of modern day slavery where human beings are being sold and exploited for profit.
He said: "This criminal practice is dehumanising and robs individuals of humanity and rights.
"Trafficking in persons is primarily a transitional crime although it can occur within the victim's country."
Mr Dames said traffickers and victims in The Bahamas are mainly from the Caribbean region, South and Central America and Asia.
The government enacted the Trafficking in Persons (TIP) Act in 2008.
"Since in the inception of the TIP there have been four cases of trafficked victims that were investigated in The Bahamas," Mr Dames said.
"Moreover, for the past three years The Bahamas has maintained its tier 1 status (on the US government's Trafficking in Persons Report). A status given to countries whose governments fully meet the Trafficking Victims Protection Act's minimum standards.
"The Ministry of National Security and by extension the government of the Bahamas will continue to advocate for victims and by launching this hotline we are taking a crucial step towards empowering victims to report crimes and end this shameful and criminal practice."
TIP secretariat personnel within the Ministry of National Security will oversee this new hotline.
Callers can access the 24-hour TIP hotline by calling 376-TIPS (8477), or call 326-0133 Monday to Friday 9am - 5pm. Residents in the Family Islands call the toll-free number, 300-3339.