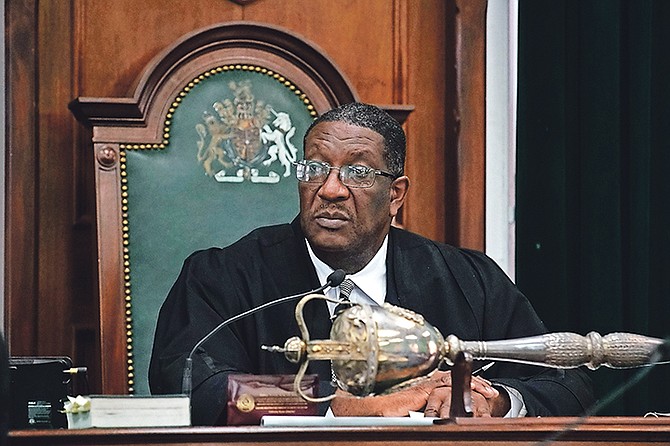 By RASHAD ROLLE
Tribune Staff Reporter
rrolle@tribunemedia.net
HOUSE Speaker Halson Moultrie, hoping to make parliament independent of the executive branch, expects to give the attorney general a draft bill next week that would create a parliamentary service commission that would control the budget and administration of the Senate and House of Assembly.
He will also table a list of recommendations to strengthen the legislature, including that no more than 47 percent of parliamentarians be Cabinet ministers or serve as parliamentary secretaries.
In September, Speaker Moultrie announced he had sought legal advice and guidance from former Chief Justice Dame Joan Sawyer, Fred Smith, QC, Maurice Glinton, QC, Bahamas Trade Union Congress President Obie Ferguson, Bahamas Industrial Tribunal Vice President Kelphene Cunningham and Bahamas Bar Association President Kahill Parker on how to strengthen the legislature.
He said yesterday: "We will pass the legislation to the executive branch and attorney general and have it passed to the public so there can be a public debate as we try to get the best system moving forward. In the Commonwealth Parliamentary Association, The Bahamas is really the fourth oldest democracy but we are one of the few parliaments that do not have autonomy and separation.
"The main feature is to establish an independent parliamentary service and commission that will have a board of directors to govern the affairs of Parliament. The board will consist of 12 to 15 members, including the speaker and deputy speaker, the president of the Senate, representatives from the governing side and the opposition. We are considering whether to appoint people outside Parliament or the Senate. The board would set policy and review the administrative structure and development of the Parliament with respect to technology, research, administration and finance. Parliament would submit budget estimates and negotiate the financial position with the executive. Once a budget has been approved, the commission and service will determine expenditures. The commission will look at avenues to raise funds, developing and expanding the parliamentary channel to have 24-hour programmes, looking to receive grants, to move into various Family Islands on an educational exercise. We're also hoping to get a new parliamentary building because right now Parliament Square, we've outgrown that."
Speaker Moultrie said his team is looking at Canada, Australia, the United Kingdom and Barbados as benchmarks for its proposals, creating legislation that is a hybrid of the parliamentary services in those countries.
Compared to Speaker Moultrie's recommendation, the Minnis administration's Cabinet with 19 members is too large. There are also four parliamentary secretaries in this administration.
"We are seeking to have Cabinet that represents a maximum of 17 or no more than 47 percent of the members of Parliament so the backbench and opposition combined can actually check the executive," the Speaker said. "The United Kingdom for example has 650 members in the House of Commons and a Cabinet of 23. Here we have basically 39 members with a Cabinet of (19 members and four parliamentary secretaries), which defeats the very essence of the separation of powers as envisioned in the Constitution."