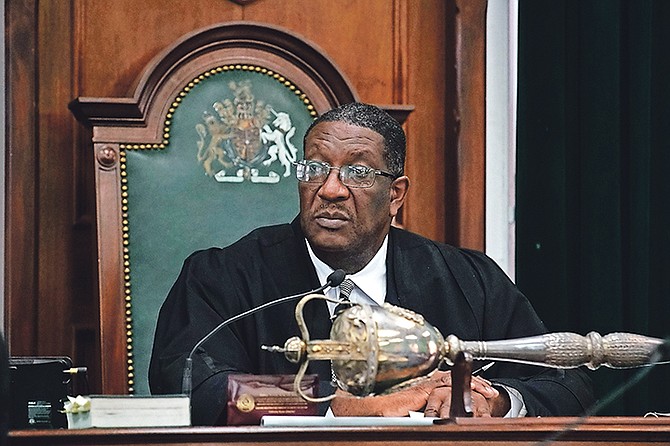 The Speaker of the House Halson Moultrie. (File photo)
Stories this photo appears in:

AS he rebuked Official Opposition members, House Speaker Halson Moultrie said he is willing to "risk everything" to maintain order and decorum in the lower chamber.

RENOVATIONS and technology upgrades are planned for the House of Assembly in the upcoming fiscal year, according to Speaker Halson Moultrie.

HOUSE Speaker Halson Moultrie has ruled that visitors will be prohibited from carrying cell phones into the gallery after videos of a disturbance in Parliament last week went viral on social media.

HOUSE Speaker Halson Moultrie, hoping to make parliament independent of the executive branch, expects to give the attorney general a draft bill next week that would create a parliamentary service commission that would control the budget and administration of the Senate and House of Assembly.

HOUSE Speaker Halson Moultrie yesterday warned to Members of Parliament to file their public disclosures as the March 1 deadline is imminent.

HOUSE Speaker Halson Moultrie yesterday called for an amendment to the country's Constitution establishing an upper limit for the appointment of ministers to eliminate "supersized" Cabinets.Additionally, Speaker Moultrie said there remains an "adulte

AFTER a closed door meeting with Official Opposition Leader Philip "Brave" Davis, House Speaker Halson Moultrie yesterday renewed his pledge of impartiality in mediating parliamentary proceedings.The Nassau Village MP did not go into great detail abo

A ROW erupted in the House of Assembly yesterday over the absence of Englerston MP Glenys Hanna Martin who, according to House Speaker Halson Moultrie, was scheduled to speak yesterday afternoon.

HOUSE Speaker Halson Moultrie yesterday reconstituted a new Rules Committee to address matters regarding parliamentary procedure specifically members' ability to read into the House record information from social media.Bamboo Town MP Renward Wells, S