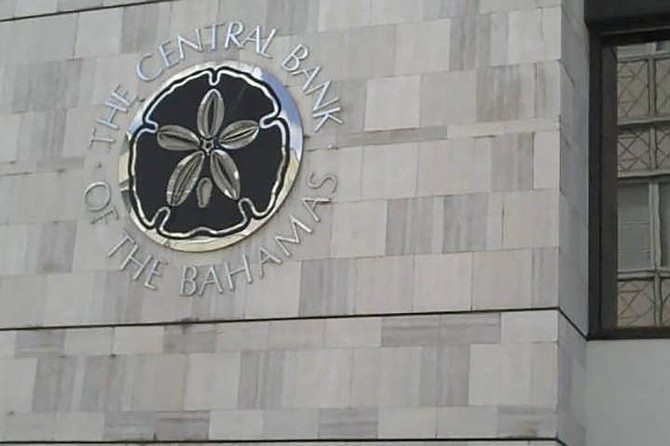 By NEIL HARTNELL
Tribune Business Editor
nhartnell@tribunemedia.net
Bad loans commercial banking industry borrowers dropped to under $800m at end-January 2019, falling to their "lowest levels for ten years".
The Central Bank of The Bahamas' report on January's economic developments revealed that borrower arrears has fallen to its lowest level since the 2008-2009 financial crisis, providing a further glimmer of optimism that the economy may finally be moving towards recovery.
"Banks' credit quality indicators continued to improve over the review period," the Central Bank said. "Specifically, total private sector arrears decreased by $10.7m (1.3 percent), to $799.1m, and the ratio to total private sector loans contracted by 18 basis points to 14.1 percent - the lowest rate in ten years.
"On a year-on-year basis, the total arrears ratios moved lower by 1.3 percentage points, as both the short-term and non-performing loan rates softened by 70 and 59 basis points, respectively. Broad-based reductions were recorded across all loan categories, with the mortgage, consumer and commercial arrears rates narrowing by 1.7, 1.2 and 0.3 percentage points, respectively."
However, the good news was partially offset by the fact January's decline was driven entirely by a fall in short-term arrears. Non-performing credit, meaning loans that are 90 days or more past due, increased during the month to indicate that there are still too many Bahamians struggling to meet their repayment obligations.
"The reduction was due mainly to an $18.6m (6.4 percent) decline in short-term arrears (31 to 90 days) to $274.3m, while the corresponding ratio fell by 32 basis points to 4.8 percent," the Central Bank confirmed. "In a partial offset, non-performing loans (NPLs), firmed by $7.9m (1.5 percent) to $524.9m, and by 14 basis points to 9.2 percent of total private sector loans.
"Disaggregated by loan type, the overall decrease in arrears was mainly attributed to a $15.7m (3.2 percent) contraction in mortgage delinquencies to $483.7m, as both the short and long-term components fell by $9.4m (5.7 percent) and $6.4m (1.9 percent), respectively.
"In addition, consumer loan arrears softened by $0.7m (0.3 percent) to $228.6m, as the 31-90-day segment decreased by $8.4m (8.8 percent), in contrast to the $7.7m (5.8 percent) rise in NPLs.
"In contrast, the commercial component rose by $5.7m (7 percent) due to a $6.6m (13.7 percent) rise in long-term delinquencies, which overshadowed the $0.8m (2.5 percent) fall-off in short-term arrears."
Bahamian commercial banks increased their loan loss provisions by $8.5m or 1.9 percent to $447m in line with the rise in non-performing loans. "As a consequence, the ratio of total provisions to arrears firmed by 1.8 percentage points to 55.9 percent," the Central Bank said.
"In addition, the total provisions to NPL ratio edged-up by 35 basis points to 85.2 percent. At the end of January, banks' write-offs and recoveries amounted to $6.2m and $1.2m, respectively."
Bahamian businesses and households are still deleveraging, as local currency credit outstanding fell by $31.4m in January - a smaller decline than the $52.1m contraction experienced in the same month in 2018.
"The decline in private sector credit was extended by $6.8m to $17.7m," the Central Bank said of January 2019, "as growth in commercial credit tapered to $6.9m from $17.8m last year, while consumer loans and mortgages fell further by $16.8m and $7.7m, relative to $19.9m and $8.8m in 2018."