By NATARIO McKENZIE
Tribune Business Reporter
nmckenzie@tribunemedia.net
The Central Bank's governor yesterday said Exuma will be the first island where a digital Bahamian dollar is tested, unveiling plans to impose a ceiling on the value stored in mobile wallets.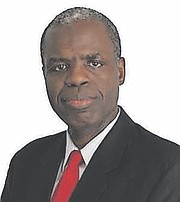 John Rolle, addressing the Central Bank's second blockchain seminar, said: "To stay focused on the challenges that an archipelago poses, and to tackle gaps in access to services in remote communities, Exuma has been identified as the pilot community. The bank will also explore how to enlist other selected islands that have suppressed or no banking presence.
"The digital representation of the Bahamian dollar will be identical to, and not a separate version, of the currency. It will align with all of the statutory rules that govern existing liabilities of the Central Bank; always exchanged at one for one with existing notes, coins and balances. The design will also incorporate best international practices around anti-money laundering and terror financing risks.
Mr Rolle further explained: "Anonymity is not a feature. This framework will rely intimately on the national identify infrastructure when permitting users to hold and exchange digital money. At the onset, it will use Know Your Customer (KYC) and identity features incorporated into the system design, and adopt the wider public identity system as it becomes available.
"A blockchain infrastructure has been proposed for the digital currency, with performance capabilities that would adequately satisfy the Central Bank's requirements for swift processing of payments. This would not impose any change on the current ownership of the ACH (Automated Clearing House), which is by the commercial banks.
"There will be an extensive public education process for all stakeholders potentially impacted by this transformation. Also, from the outset, this project will engage with banks and other payment services providers, so that interoperability standards can be perfected. There are important design features of a digital Bahamian dollar that are intended to reflect the Central Bank's role as a sponsor of financial sector development.
"This is essentially a public good that is being provided. Geographic fragmentation cannot assure that the private sector, acting alone, would achieve the level of inclusion and access which all communities in The Bahamas deserve."
Mr Rolle affirmed that the digital Bahamian dollar is intended to complement, and not replace, existing banking services. "Its use will be optimised when persons in remote communities are able to deploy it to establish and maintain deposit accounts and other services at banks," he said.
"Those who use Central Bank-sponsored digital wallets would not see their funds treated as interest bearing deposits. However, the Central Bank will explore future innovations that would allow mobile wallets holders to invest in Government securities. While it would be possible to maintain mobile wallets independent of a bank account, the Central Bank intends to impose a ceiling on how much digital currency could be maintained in mobile wallets.
"High volume use will require a pass through flow of funds to personal bank accounts," the Governor continued. "Business accounts would always fit this profile. The wallet's integration with commercial banks or other licensed entities would be required in order for account holders to have access to foreign exchange services.
"The interoperability feature means that the digital Bahamian dollar would be available for use across all payment platforms, and within existing or proposed wallets of private services providers and financial institutions. Although the consumer public would have the default option of establishing a wallet account with the Central Bank, they would be enabled to use the currency within any product developed by regulated private wallet providers."
Mr Rolle said that over time it was expected that the Central Bank will play a diminished role in providing front-end solutions, and be left to focus on maintaining the digital ledger for the currency.
"At the policy level, the Central Bank is also putting emphasis on a system that would allow for effective maintenance of monetary and financial stability, safeguards to ensure aggregate stability in the deposit base of commercial banks, data privacy and data sovereignty for consumers, and an aggressive cyber security posture," he said.