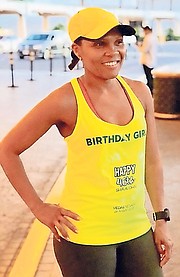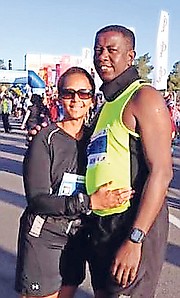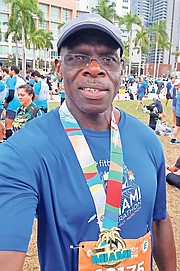 By BRENT STUBBS
Senior Sports Reporter
bstubbs@tribunemedia.net
FOUR Bahamians, representing the Bahamas Roadmasters, made their presence felt on Sunday as they participated in the 39th edition of the Virgin Money London Marathon.
It was the first time that the quartet made their appearance in the 26.2 mile run that raised funds for the official charity Mencap, an organisation that brings together young people with and without a learning disability through sport.
Shavaughn Blades turned in the best performance by the Bahamian contingent, placing 23,520 overall in the gruelling 26.2-mile course and 1,088 in the female 45-49 category in four hours, 33 minutes and 12 seconds.
Charles Johnson, a past president of the Bahamas Roadmasters, clocked 4:59.43 for 535 in the men's 60-64 category and 30,242 overall.
Theodore Jackson, competing along with his wife, Dr Ebbie Jackson, was 39,682 overall and 1,360 in the men's 55-59 category in 6:09.25.
Dr Jackson, competing in the women's 55-59 category, was 34,366 overall and 541 in her category in 5:22.59.
Speaking on behalf of the group, Dr Jackson, a cancer survivor, said the morning started out very cold as they waited in their corral to compete, but the goal was to complete the race. Although rain was forecasted, she noted that there was only a slight drizzle during the race. "For me, the race became very dangerous due to the crowd. I was tripped at mile three by a runner. I bruised my hand and knees in the process and had excruciating pain," she said. "The decision at that point was to keep going in spite of the pain.
"Around mile 11, I was accidentally crashed into by another runner, who became excited when she saw her relative. By this time, I was ready to quit. But I remembered what I endured during treatment for cancer so I told myself you can't give up, you must continue."
Once again around mile-15, Dr Jackson said she tripped but did not fall so she kept her perseverance and determination to complete the task at hand, although she promised herself that she won't enter the London Marathon again.
Based on what took place, Dr Jackson said the rest of the Bahamian contingent did very well and they all completed the race.
"Shavaughn (Blades) ran an excellent race, completing the course under five hours. So did Charles Johnson," Dr Jackson noted. "My husband (Theodore) and I were happy to complete the event together and we look forward to continuing our journey of running marathons."
More than a record-breaking 42,906 competitors participated in Britain's favourite race with no less than 42,549 finishing, eclipsing 2018's record total of 40,273 by more than 2,000.
Kenyan's Eliud Kipchoge, 34, took the men's title for the fourth time in 2:02.37 and his compatriot Brigid Kosgei made history as well as she emerged as the youngest female champion in 2:18.20 at age 25.
Britain's sporting knight Sir Mo Farah, now running marathons after a storied career in distance running on the track, was fifth in 2:05.39, nearly half-a-minute outside the European record he set in Chicago last year.
Tennis legend Sir Andy Murray, arguably Britain's greatest-ever sportsman, pushed the red button to launch the men's race, while former Wimbledon champion Amélie Mauresmo acted as the official starter for the women.
The 40th edition of the London Marathon is all set for Sunday, April 26, 2020.