By JEFFARAH GIBSON
Tribune Features Writer
jgibson@tribunemedia.net
New ways to prepare meals using fresh ingredients that come straight from the field will be the highlight of the Ministry of Health's new "Watcha Cookin" show airing this Thursday.
The second episode of the show puts a special focus on farm-to-table ingredients and airs on ZNS at 8pm, with re-broadcasts on Saturdays at 1pm.
An initiative spearheaded by Minister of Health Duane Sands, the show is designed to give parents unique and healthy meal options that can be easily introduced into their families' diets.
On the upcoming episode, special guest Chef Marcella Evans-Ingraham of Atlantis Kids Adventure, along with host Denielle Miller, will demonstrate how to prepare braised lamb shanks, roasted garlic mashed potatoes, avocado, tomato and mozzarella salad.
The format of the show is to have the host cooking with a guest chef – both professional and home cooks – and interact with a panel that consists of any combination of Ministry of Health and private sector nutritionists, doctors, therapists, business owners and health advocates, said Candice Major-Lightbourne, a communications administrative officer at the ministry.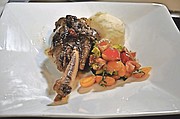 Panellists for this episode include Tonjia Burrows, senior food processing officer for BAIC; Dr Patti Symonette, a licenced nutritionist and Wellness Centre proprietor, and Dr Selima Hauber, a horticulturist and owner of the Field-to-Fork community farm.
The episode also focuses on the importance of backyard farming. It will give tips for viewers on how to start and maintain their own garden, no matter the size of the space they have available, how to properly store fruits and vegetables as well as different methods of preparing food.
Although the items for the show are purchased from a local grocery store store, viewers are encouraged to visit farmer's markets to purchase locally grown fruits, vegetables, eggs and meats.
"Watcha Cookin'" is part of a wellness campaign imagined and executed under the leadership of Dr Sands.
The main aim of the show is to empower Bahamians with practical nutrition facts that will help them better navigate the grocery aisles and be more conscientious about food purchasing, preparation and preservation practices.
Each episode seeks to take viewers on an exciting health discovery, exploring topics such as appropriate portion sizes, navigating nutrition labels, incorporating the revised breadbasket contents, eating locally grown foods, starting a backyard garden, and other practical and delicious ways to prepare budget-friendly tasty family meals.
The show also offers the viewers opportunities to participate via social media and win prizes.
According to statistics by the Ministry of Health, 83 percent of school aged children do not eat the recommended amounts of fruits and vegetables; 42 percent eat salty foods at least two times per day; 30 percent eat fast food at least three times per week, and 69 percent drink one or more sugary beverages each day.
Among Bahamian adults, 90 percent do not eat the recommended amounts of fruits and vegetables; 37 percent eat out more than two meals per day, and 73 percent are physically inactive. These poor habits have left our country with 92,493 people with diabetes; 132,741 with hypertension, and over 600 with end-stage renal disease. The annual cost for dialysis treatment in the country is $25.5 million.
The vision of the Ministry of Health is an optimal level of health and well-being of all residents of the Bahamas, and "Watcha Cookin'" is designed to do its part in ensuring this vision becomes a reality.