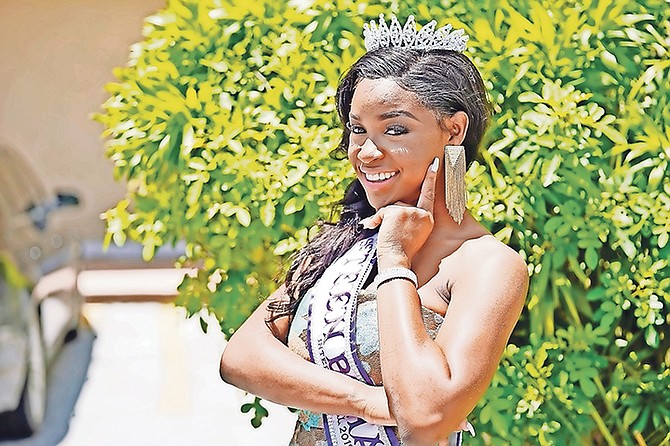 By CARA HUNT
Tribune Features Writer
cbrennen@tribunemedia.net
Fanaeya Nicholson, the newly crowned Miss Teen Bahamas International, never considered herself to be the type of girl to enter, much less win, a beauty pageant.
Before entering the world of beauty queens, the 16-year-old Abaco native had issues of self-confidence and self-worth she had to address.
However, pageantry turned out to be a great way for her to recognised the beauty inside of her. Her journey, she told Tribune Weekend, has inspired her to make self-acceptance the platform she will endorse during her reign.
"I started out in pageants after my stepmom asked me to do it and so I entered the Miss Teen Abaco, which I won," she said.
After winning her island's pageant, Fanaeya was invited to participate in the national pageant, and last Sunday she captured the audience's hearts and the judges attention to win the coveted crown.
"A lot of hard work, prayer and preparation went into getting ready for this pageant. We had practices every week that I had travel back and forth to come in for," she said.
In addition to the official practice session, Fanaeya also had training with Obrio Denoye, a Nassau-based coach who particularly helped her prepare for the question component of the pageant.
"The question segment is, as you know, a major part of competition and so we practiced a lot of questions."
Her preparation paid off and Fanaeya felt very comfortable on stage answering the judges' question, which was: "You have a meeting with the Prime Minister as a beauty queen, what one thing would you talk to him about regarding youth?"
Her answer: "If I was given the opportunity to have a conversation with the Prime Minister I would bring up the topic of the influence of social media on the way youth view themselves, the way it influences their minds and the feeling that they are not good enough. As a young lady I know how it feels to be a victim of this. I know how it feels to not be good enough because of what you see or what your friends tell you. So I would tell them that you are strong, you are beautiful, you are you and no one in this universe is like you. Be proud of it and embrace who you are."
She said, in her view, social media can be a great interactive tool, but it can also be a source of negativity when young people feel they cannot measure up to the life that others portray online.
Fanaeya said before she entered the pageant she had to prove to herself that a young girl from a small Family Island was indeed strong enough to enter a competition on the national level.
The teen, who attends St Francis De Sales Catholic School, said she would like to become a social worker so that she can continue to help young people.
And she thoroughly encourages other young ladies looking to gain self-confidence and find their voice to consider entering a pageant.
"The new queen seemed to have been a clear choice. When you review the scores of the judges, she was the favourite in every category she competed in," said Clint Watson, director of Pageant Affairs for Miss Teen Bahamas.
"Her deportment, intelligence and personality coupled with her beauty won the hearts of not only judges, but the audience. The organisation is pleased with the judges' selection and we look forward to working with her. She is impressive and focused for a 16-year-old and she will make a great national ambassador for our country."
Fanaeya will represent the Bahamas in Miss Teen International in Virginia. Additionally, she has won a scholarship to attend Middle Tennessee State University; a round-trip ticket to any of Sky Bahamas destinations; an iPhone; three pairs of designer earrings from CLW Design; a six-month gym membership at MACFIT 360; an outfit from Diva's Ink; six months of coaching; a Tamed Cosmetics package by Lyndeischa; island footwear by Marvin Store; a manicure and pedicure by Nails by Coco; a full set of mink individuals lashes, and a Fabulash242 by Rache Josey.