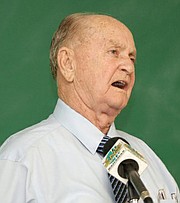 By NEIL HARTNELL
Tribune Business Editor
nhartnell@tribunemedia.net
Super Value's owner yesterday said he still believes The Bahamas should "cut its own path" despite trade experts finding it would be "moderately positive" to join the WTO.
Rupert Roberts, pictured, told Tribune Business he was "no more convinced" about the merits of becoming a full World Trade Organisation (WTO) member than he was before reading the Oxford Economics study that suggested the "net impact" would be beneficial to the Bahamian economy.
Arguing that the rules-based trading system overseen by the WTO threatened to "infringe" on Bahamian sovereignty, Mr Roberts also expressed alarm at the report's findings that full membership could result in increased demand for foreign currency that may place pressure on the country's external reserves.
He added that it would be "a major disaster" if The Bahamas had to give up its fixed exchange rate regime that supports one:one parity with the US dollar as a result. The Oxford Economics report warned that such "trade imbalances may force a reappraisal of the costs and benefits" associated with maintaining the fixed exchange rate.
Nevertheless, Mr Roberts praised the research commissioned by the Bahamas Chamber of Commerce and Employers Confederation (BCCEC) for at least providing the Government with a "guide" to the broad-based economic reforms it needs to undertake regardless of whether this nation joins.
And he said he took encouragement from assertions by Brent Symonette, minister of financial services, trade and industry and Immigration, and Zhivargo Laing, The Bahamas' chief WTO negotiator, that the Government would not join the WTO unless the accession terms benefited the economy.
"I still feel that it would be better for The Bahamas to cut its own path without the WTO," Mr Roberts told Tribune Business. "If the Government joins the WTO we will have to make the best of it and make it work; we have no choice. If it was my choice I just wouldn't join.
"The Oxford study I respect, I helped pay for it, but I'm no more convinced because they're [the WTO] a big organisation and they're not going to pay attention to a little pimple on the world. I don't think we should give up part of our, and I hate to use the word, sovereignty, but it's infringing on that.
"With all I've read I get the impression the Oxford study is saying there may be a slight advantage, or they think there will be a slight advantage to joining. So be it. That's their opinion, but I think and I hope the Oxford study is a guide that will help government's decision on what to do," he added.
"I'm glad the report is not saying The Bahamas should rush to join or not join. It looks like a close call to me. I'm not surprised by Oxford Economics' study. If you go through item by item, there's a disadvantage here, an advantage here. They believe the total bottom line is slightly advantageous, but there may be slight disadvantages as well."
Mr Roberts expressed doubt as to whether The Bahamas will achieve the accession terms it is seeking, adding that the increased 60-100 percent tariff rates sought by members of The Bahamas Light Industries Development Council (BLIDC) would not receive "buy-in" from the WTO and its members.
The Oxford Economics study also warned that widening merchandise and current account deficits post-WTO could impose pressure on The Bahamas' external reserves, and force this nation to reassess its fixed exchange rate regime, although it made no recommendations and did not definitively say it would have to give up the one:one US dollar peg.
Expressing concerns about the potential inflationary impact, Mr Roberts added: "If the Bahamian dollar were to lose its footing and go up by 10 percent, that would be a 10 percent tax on the Bahamian consumer.
"If you have to pay $1.10 in Bahamian currency to make a $1 US purchase, that would increase prices by 10 percent and that would be a major disaster. I have concerns about replacing the duties."
Mr Roberts, though, said he was against holding a referendum on whether The Bahamas should join the WTO because it was "an unnecessary expense".