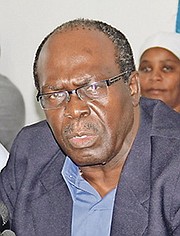 By KHRISNA RUSSELL
Deputy Chief Reporter
krussell@tribunemedia.net
Trade Union Congress president Obie Ferguson said yesterday he intends to intervene in a strike threat by the Water and Sewerage Management Union to avoid what could be a serious situation.
WSMU on Friday released a statement saying action was certain as it accused the Water and Sewerage Corporation of stringing the union along after one meeting to discuss issues was postponed and another at the Department of Labour not attended by anyone from the water provider.
Mr Ferguson said industrial action could be a collaborative effort with WSMU and Bahamas Utilities Services and Allied Workers Union.
He urged unions to move away from approaching issues confrontationally.
His comments came yesterday during a press conference at the Ministry of Tourism where it was announced an agreement had been reached between the government and Grand Lucayan managers to receive voluntary separation packages.
The managers will receive a total of $4.3m - $3.7m of that will come approximately from government as it is the shareholder of the property. The remainder will come from money that was put into an annuity plan.
Mr Ferguson, pictured right, also suggested that VSEP programmes be incorporated into collective agreements to avoid protracted discussions and contention.
Regarding matters related to WSC unions, Mr Ferguson said: "I made a suggestion and I will make it again today that the dispute at Water and Sewerage can be resolved without what you see happening.
"It's a simple matter of parties sitting down recognising the interest of both sides and finding a resolution.
"I am prepared to do that because if both of those unions go out on strike it would [a] serious effect on the system.
"Certainly I would not wish that to happen and I would suggest that a meeting be convened with persons who can make decisions and get the mater resolved."
He also said: "But my position is that I will be trying to met with the minister responsible for labour and a principle of Water and Sewerage Corporation. That to me is very important because the Bahamian people will be affected.
"The system will be compromised if both of those unions go on strike. The issue involved is not the kind of issue that warrants what is happening. You say [and] I say [and] accusing this one for the next thing - that type of thing is not productive in my humble opinion.
"So I will do whatever I can to speak with the minister of labour who is a lawyer and a former trade unionist who will understand why it is necessary for us to resolve these things."
Mr Ferguson said unions should also keep in mind that no organisation will go into negotiations and achieve 100 percent of their demands.
On Friday WSMU claimed the corporation was not acting in good faith.
"Yesterday, May 9, 2019 there was to be a conciliatory meeting at the Department of Labour and the corporation did not show up. Clearly these acts show an unwillingness by the corporation to act in good faith or even to deal with the issues at all. It appears to the union that the corporation is just stringing the union along," the statement said.
The union said in light of this it appeared that industrial action was "certain" due to Executive Chairman Adrian Gibson's attitude towards the union and workers.