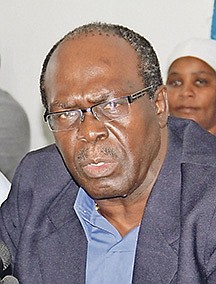 Obie Ferguson
Stories this photo appears in:

A trade union leader yesterday warned The Bahamas is headed for a general strike unless industrial relations undergo a fundamental reset, saying: "This is the worst I've seen it in 35 years."Obie Ferguson, the Trades Union Congress (TUC) president, t

Trade union leaders yesterday urged the Government to "set the tone" for a private sector minimum wage hike of between 19-66.7 percent via the Prime Minister's planned increase for the public sector. Obie Ferguson, the Trade Union Congress (TUC) pre

A trade union leader yesterday branded Morton Salt's 15-day "lock-out" ultimatum to its workers as "the first time in Bahamian history that an employer has gone on strike".

A trade union leader has called for an end to "strong man tactics" in industrial negotiations while admitting that The Bahamas' labour relations climate is "very, very bad".

Trade Union Congress president Obie Ferguson said yesterday he intends to intervene in a strike threat by the Water and Sewerage Management Union to avoid what could be a serious situation.

A veteran trade union leader yesterday said the failure "to understand what compromise means in The Bahamas" had produced bitter industrial disputes that undermined the national interest.

Grand Lucayan managers were yesterday said to have "unanimously" accepted the government's improved $4.4m payout deal, with a trade union leader expressing delight at the outcome.