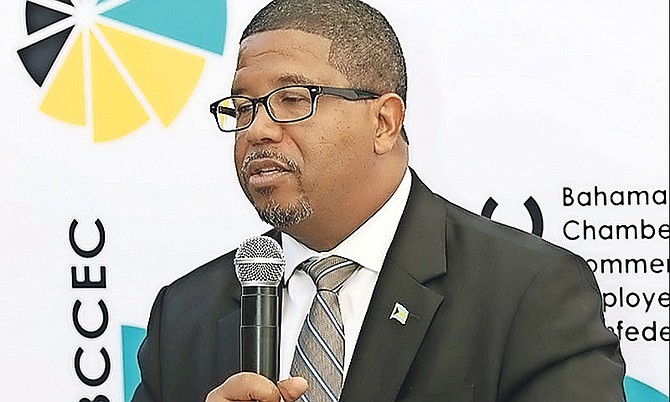 By RASHAD ROLLE
Tribune Staff Reporter
rrolle@tribunemedia.net
THE country's real gross domestic product grew by 1.6 percent last year compared to 2017, new data from the Department of Statistics reveals.
The increase contrasts with the average yearly real GDP growth of just 0.4 percent from 2015 to 2017. However, the growth is below the International Monetary Fund's projected 2.3 percent growth for 2018.
Department of Statistics officials said nine of 17 industry groups contributed to the increase in real GDP, with real value added increasing by $16 million (0.9 percent) for the real estate industry group; $43 million (3.0 percent) for the wholesale and retail trade group; $42 million (4.2 percent) for the financial and insurance sector and $253 million for the accommodation and food services industry on the back of a 7.9 percent increase in tourist arrivals.
Statisticians used the production and expenditure approaches for its GDP analysis. Household expenditure increased by $140 million (1.9 percent); non-profit institutions serving households grew by $7 million (2.2 percent); exports of goods and services increased by $244 million (6.3 percent) and imports of goods and services decreased by $23 million (0.4 percent), they said.
The GDP for 2018 was $12.4 billion in nominal dollars and $10.8 billion in real dollars.
In a statement yesterday, Deputy Prime Minister and Minister of Finance Peter Turnquest said: "This is the first time the country has had decent economic growth over five years. When we look at where we are now compared to where we were, these results are confirmation; there has been a significant turnaround and our policy mix is effectively placing us on a path of sustained growth.
"The key takeaways are that economic growth is positive, our momentum has firmed and it is being driven by the private sector. Just five years ago, the country was experiencing negative growth at -3.0 percent, and for several years, the country struggled to arrest the decline. Now, we have turned things around and we are set up for future expansion and sustained growth. This will allow for expanded job opportunities for Bahamians and improve our ability to withstand shocks."
However, Exuma and Ragged Island MP Chester Cooper accused Mr Turnquest of political spin, saying in a statement that the GDP growth was softer than expected. "It is interesting to see that this administration repeatedly touted its projection of over two percent GDP growth for 2018 as a sign of its supposed economic stewardship, only to have been brought back down to earth by the facts," he said. "That the minister of finance reacts with glee after a lower than expected real [GDP] is curious, yet dizzyingly out of touch statement. The minister's projections are simply not being met; not even close. That GDP growth for 2018 was 1.6 percent, as disclosed in the report by the hardworking professionals at the Department of Statistics today, should be alarming to Bahamians. With the opening of Baha Mar, record tourist arrivals the current administration had nothing to do with, the booming US economy and no major shocks to the economy, like a hurricane, over the past year, the government must explain why the growth projection was not met."
Mr Cooper questioned whether the government missed its projections because of the rise in value-added tax "and the subsequent starving of capital expenditure to meet a rigid deficit target."
For the first time, the national accounts section of the Department of Statistics released a quarterly GDP using the production approach. Its quarterly data was provided for 2015 to 2018.
Leona Wilson, acting director of the department, said: "The reason for the quarterly report is a response to the demand for GDP on a more regular basis, instead of waiting for the annual GDP once a year. Both policymakers and international organisations want to have some idea of what is happening in the economy on a more timely basis."