By NEIL HARTNELL
Tribune Business Editor
nhartnell@tribunemedia.net
A prominent businessman yesterday said there was a disconnect between WTO-type policy decisions and how they "translate into an improved quality of life" for most Bahamians.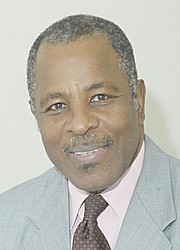 Sir Franklyn Wilson, pictured, the Arawak Homes and Sunshine Holdings chairman, told Tribune Business that he was "starting to understand more clearly" why Bahamian voters had decided to change the government every five years since 2002.
While successive PLP and FNM administrations had talked about investments and job creation, Sir Franklyn said they had failed to address the issues that mattered most to Bahamians - especially improving their incomes and living standards.
He argued that the debate over whether The Bahamas should seek full membership in the World Trade Organisation (WTO) was thus irrelevant to many who had more pressing day-to-day needs that were either being ignored or not addressed by government ministers.
Sir Franklyn also questioned whether there were sufficient entrepreneurs and Bahamian companies willing to exploit the improved overseas market access that WTO is billed as providing, saying he had heard little to no talk of companies planning to invest if this nation became a full member.
Nevertheless, he praised the Bahamas Chamber of Commerce for commissioning the Oxford Economics report on WTO's likely impact as an effort that shows how "public policy can be influenced by serious independent study".
Sir Franklyn added: "Beyond all the talk, subject to further study and all that type of stuff, the part of the Oxford Economics study that got my attention was the call for economic reform.
"What are we going to get from this? Where's the manufacturers? Who are the exporters? What's going on? There's no manufacturing base; there's fewer manufacturers than there were 30 years ago; Syntex and all those.
"Where are they today? Where are the Bahamian entrepreneurs doing anything? To me, whether we join WTO or not, it's almost one of those debates saying where is the return? What are we doing? Where are the Bahamians building anything, doing anything?" Sir Franklyn continued.
"That, to me, is the larger question. Joining the WTO or not joining the WTO, what are we trying to achieve? Where is the Bahamian building a plant because we have access to markets x, y and z? Who's talking that? To me it's just more talk, which is why I've not got heated over it."
The Oxford Economics study said its findings were that WTO membership will be "moderately positive" for the Bahamian economy, especially if this nation undertakes broad-based structural reforms that improve the cost and ease of doing business through better governance and transparency, coupled with the elimination of bureaucracy and red tape.
Should The Bahamas adopt this comprehensive reform strategy in parallel with WTO accession, Oxford Economics estimated it could lift the economy's long-run average annual GDP growth rate to around 2 percent - higher than the 1.5 percent currently forecast by the International Monetary Fund (IMF).
And the Chamber's consultants also projected that this will help slash The Bahamas' national unemployment rate from its current 10 percent to 6.5 percent over the next decade, driving it to its lowest level this century.
Sir Franklyn acknowledged to Tribune Business that the economy was "in a tail spin and serious problems", but suggested that higher growth and a reduction in the jobless rate were not translating into significant living standards improvements for enough Bahamians.
"Yes, there's going to be economic growth, the unemployment rate in May will show a reduction, but what does that mean?" he asked. "How is that translating into an improved quality of life in this country? I don't see it.
"I don't hear any minister saying how they are going to change the quality of life in a positive fashion. All I hear is a bunch of talk. .... The more I see the more I am concerned, and the more I think I understand why the people are changing the government every five years. I'm beginning to understand that more clearly.
"The bottom line position is that people are reaching a point where none of you all [ministers, MPs and political parties] are talking about things important to me."
Sir Franklyn agreed that his assessment was uncomfortable and "really challenging for the political establishment", but added: "I have yet to hear the Prime Minister or any Cabinet minister in their two years say anything about something that will transform The Bahamas if this happens.
"What is going to change to make us Bahamians stronger, better, be more productive, work better and be more co-operative? This is not a partisan political position; I want to make that abundantly clear. But I'm not hearing anything for that boy in Ross Corner, even the Over-the-Hill thing.
"What are people saying once these things come through? Do people have a transformed quality of life?"