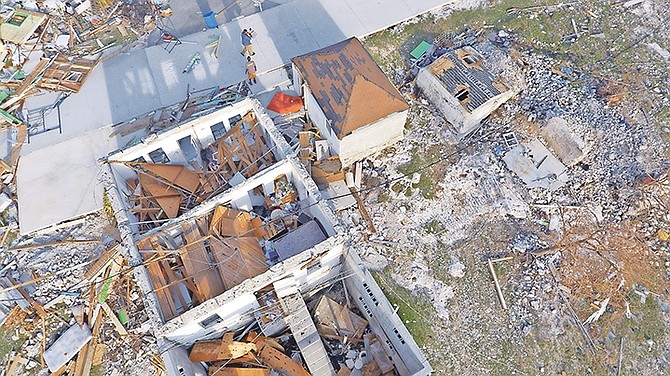 By Rashad Rolle
Tribune Staff Reporter
rrolle@tribunemedia.net
NEARLY two years after Hurricane Irma devastated Ragged Island, Prime Minister Dr Hubert Minnis outlined plans last night for an $8 million investment in rebuilding key public infrastructure on the island.
He also said candidates have been shortlisted to participate in a request for proposals process for a solar generation facility on the island, with the RFP expected to be published soon and the facility completed by year's end.
He was speaking during his third national address of the year, one focused on the environment. 
In September 2017, Dr Minnis promised to transform Ragged Island into the "first fully green island in the region".
That month he said in the House of Assembly: "Out of the devastation and the destruction, a new Ragged Island will emerge, including stronger building codes, improved zoning, and strategies to mitigate against climate change and rising sea levels."
However, as months passed, little transformation took place and critics deemed his promise hollow. Last night, Dr Minnis said a school and teacher's duplex will be constructed on the island at a cost of $2 million, a new clinic at $2.5 million, an administrator's office, post office and court room at $2.5 million and a police station and accommodations for officers for $1 million.
Without being specific, he said negotiations are ongoing "for what may be a major economic development at Mayaguana, our easternmost island."
Dr Minnis, for the second time this month, also foreshadowed new land policies.
"We are restructuring the application process for Crown land," he said. "We will reduce the number of months to attain land leases or Crown grants. Land reform is not an easy or quick fix. But we intend to ensure that many more Bahamians have access to Crown land. Essential to the development of the Family Islands is the grant of Crown land to Bahamians for lodges and boutique properties, for agriculture, for second home development and for other purposes."
During a rally earlier this month, Dr Minnis pledged to give Bahamians unprecedented access to Crown land, saying the policies will be revealed during the upcoming budget exercise.