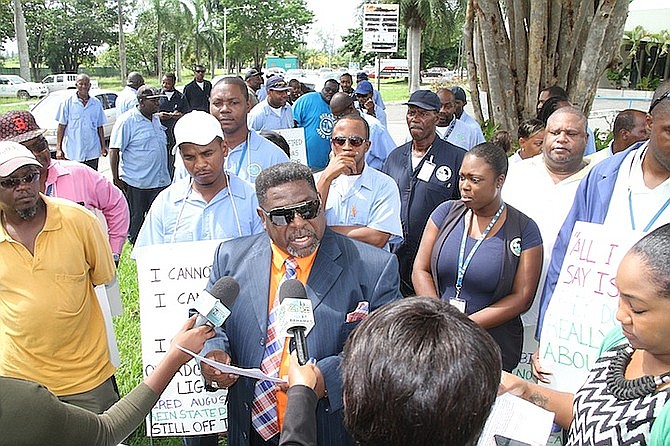 By Riel Major
Tribune Staff Reporter
rmajor@tribunemedia.net
WORKERS at the Water and Sewerage Corporation presented their new industrial agreement to executive management yesterday.This follows months of standoff, strike threats and a war of words with executive chairman Adrian Gibson. 
At a press conference at WSC headquarters, Dwayne Woods told reporters the union has made a few changes to the existing industrial agreement to ensure the "negotiation process runs swiftly and smoothly".
He said: "We have proposed a reduction in the term limit to three years instead of five years. A 'stay well' bonus so as to increase attendance, updates of minor breaches category of discipline, additional definitions to bring clarity to cases, and an increase in meal allowance.  (Additionally) an increase in Christmas bonus, increase in salary emoluments and reductions in salary groupings."
The BUSAWU president said the union's main goal is to maintain workers' current industrial benefits. Mr Woods said: "We look forward to negotiating in peace and harmony and we hope that industrial goodwill will prevail from here between both unions as we both have an expired industrial agreement and looking forward to a current one. 
"This is the first step, presenting a new proposal then we look forward to them countering this proposal and then we get to the table and do business. Like I said we are looking for this to be swift and be done in record time."
When asked about management's issues surrounding his leave from WSC to perform union duties, Mr Woods said: "The union leave matter is a matter now referred from the Supreme Court back to the Department of Labour for conciliation purposes.
"That meeting will be on the 3rd of June I'm told," he said.
When asked if he were confident about the process moving swiftly, he said: "To make it simple I've already written the corporation and informed them I will return to work on the 3rd of June so as not to have any bone of (contention) before we start this agreement."
Water and Sewerage Management Union president Ednel Rolle said there has been no negotiations by the corporation.
Mr Rolle said: "The corporation has continued not to negotiate at all."
Earlier this month, Labour Minister Dion Foulkes confirmed he had signed the strike certificate for the Water and Sewerage Management Union — and therefore both Water and Sewerage Corporation unions were in possession of strike certificates.
This paves the way for strike action at the water provider.
WSMU President Ednel Rolle and Bahamas Utilities Services and Allied Workers Union (BUSAWU) President Dwayne Woods held a joint press conference at the time to express thanks to their members and the Ministry of Labour for the achievement. 
The union presidents also confirmed that they both had meetings with the corporation set for May 7 to negotiate key outstanding issues. 
For WSMU, this is primarily the signing of an industrial agreement. For BUSAWU, the three major issues include the "failure" of the corporation to "adhere to the promotional procedure," WSC's "failure" to post an organisational chart displaying which positions are filled, and the breach of an agreement that concerns union member's leave from WSC.
Mr Woods, who represents the line staff, told reporters yesterday that he is "going to the table in good faith" and with optimism.
He also said he hopes the present relationship between the union and WSC can be enhanced to the point "where the strike certificate will not have to be used".