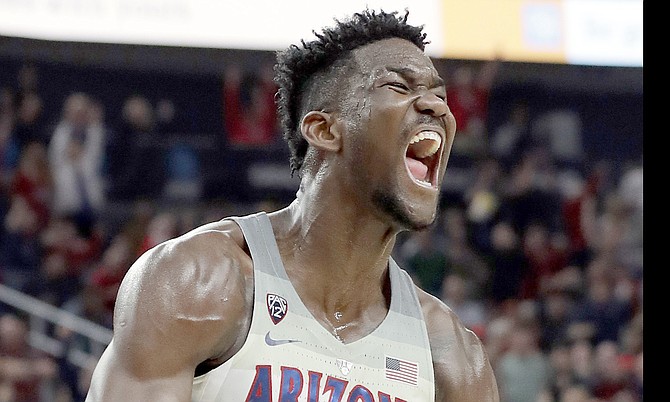 Add another milestone to the list of accolades for a standout rookie season for the Phoenix Suns.
Ayton was named to the NBA All-Rookie First team, just days after he was named one of three finalists for the 2018-19 Kia NBA Rookie of the Year award.
Ayton received 95 of 100 possible votes for the First Team and was joined on the NBA All-Rookie First Team by Dallas' Luka Doncic, Atlanta's Trae Young, Memphis' Jaren Jackson Jr and Sacramento's Marvin Bagley III.
The NBA All-Rookie Second Team consists of the LA Clippers' Shai Gilgeous-Alexander and Landry Shamet, Cleveland's Collin Sexton, New York's Mitchell Robinson and Atlanta's Kevin Huerter.
The No. 1 overall pick finished his rookie season with averages of 16.3 points, 10.3 rebounds, 1.8 assists and 0.9 blocks on 59 per cent shooting from the field in 71 games - one of the most efficient rookie seasons in league history.
He finished with 39 double-doubles, a Suns rookie record and No.12 among all players. He also set the Suns' rookie rebounding record with 729 boards.
His field goal percentage was the third-highest in NBA history by a rookie qualified for the league leaderboard and the highest by a rookie who is averaging a double-double.
"It could've been better," Ayton said of his rookie season. "I could've set the bar pretty high, but it is what it is. I learned from it. Total different beast next season." Ayton posted the highest field goal percentage ever by a rookie who averaged a double-double and it was also the highest field goal percentage ever by a rookie who averaged at least 15 points.
Ayton's best performance of the season came on December 29 against Denver when he posted career highs of 33 points, 10 offensive rebounds (14 total) and four steals, shooting 16-of-20 from the field. He set a Suns franchise record for most field goals in a quarter and a Suns rookie record for points in a quarter, scoring 24 points on 12-of-13 shooting in the second quarter of that game.
While he continues to recover from the season, Ayton said he has kept an eye on the NBA playoffs.
"Offseason has been pretty good. Starting up not too hard, but easing back into it. It's fun, but I'm super sore right now," Ayton said.
"I'm watching it here and there, but I'm watching (for film). I'm not really watching it for entertainment. I'm watching the stuff I can take away what certain guys' bread and butter every time in the playoffs. Yeah, it's World War III as you guys can tell, especially in the West. So it's amazing. The refs are letting us play."
Ayton also recently represented the Suns at the 2019 NBA Draft Lottery in Chicago, Illinois.
The Suns own the sixth overall pick in the 2019 NBA Draft.
Ayton's recent honour also coincided with a new era in Suns basketball as the team introduced Monty Williams as its new head coach.
"[Suns owner Robert Sarver] said he's a great guy," Ayton said. "I'm just going to roll with that, pick his brain a little bit and when it's all said and done, he's here in Phoenix. Work out with him and see what he got. I know he's got a lot for me."
Williams has said he planned to structure his offence around Ayton and guard Devin Booker.
"Sounds good," Ayton said. "It's a different beast over here. We're trying to start something totally different up in the city. Everything has got to bring the same thing to the table."
Williams had a nine-year NBA playing career before he transitioned to the coaching ranks. He served as an assistant head coach with the Portland Trailblazers (2005-10) and Philadelphia 76ers (2018-19), an associate head coach with the Oklahoma City Thunder (2015-16) and a five-year stint (2010-15) as the head coach of the New Orleans Hornets/Pelicans.
"The culture has to take a leap this summer," Williams said. "We can't wait until October to take a leap in culture. It's going to require our guys to embrace the little things. It'll be a war of attrition this summer. Showing up on time, working hard, defending, sharing the ball, and having a high care factor are things that I believe allow you to build a culture. If you have a culture, then you can deal with the on-court stuff."